Revelations of an e-cigarette seller
After exchanging text messages via social media, VietNamNet's reporter, who acted as an e-cigarette buyer, decided to meet the seller and discovered many things that made him shiver.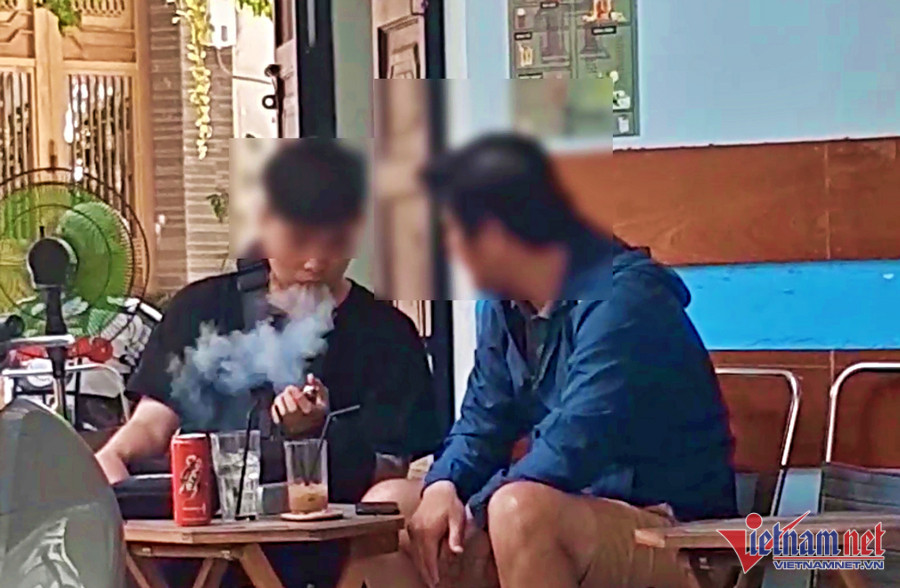 E-cigarettes have become something that shows the coolness of some students. The websites that sell e-cigarettes never provide information about the toxicity of the product. Instead, sellers always say e-cigarettes are safe and suitable for smokers of all ages.
Sellers even advertise that smoking e-cigarettes is an art. Vape tricks are an example.
L.K, 27, in Tan Phu district in HCM City, who has been selling Pod and Vape for four years, said tricks are the technique of releasing e-cigarette smoke, creating different shapes.
Those who use e-cigarettes consider Vape tricks as an 'art' with many different techniques.
"If you smoke cigarettes at public places, you will be considered an impolite person, but it will be okay if you use Pod or Vape. This is because the smoke of Pod and Vape doesn't have a bad odor and is not as bad as the smoke of traditional cigarettes," he explained.
"Vice versa, it is very fragrant and it brings you the feeling of 'playing' with smoke with high technique. Vape tricks are the proof of a high-end stylish vaper. This explains why e-cigarettes attract the youth," he said.
In addition, manufacturers create new models of Pod and Vape with diverse colors and shapes that attract users. There are products under the disguise of soft drink bottles, lipsticks, USBs or pens.
As for the liquid used for Pod and Vape, there are numerous tastes such as Redbull, milktea, lemon, grapefruit and taro for bigger choices. Sellers can even fabricate new tastes to satisfy the demands of anyone.
According to K, there are two kinds of e-cigarettes, including freebase with low nicotine level, and Salt nicotine with high nicotine level (24 ni-60 ni – ni is the slang word of milligram). If smoking low-ni, one just smokes for fun.
If someone really wants to enjoy e-cigarettes, he should try Salt nicotine, while if he wants chill and seek high sexual pleasure he needs a bottle of CBD.
In addition, there exists a kind of liquid extracted from American grass.
According to Nguyen Trung Nguyen, director of the Poison Control Center, the launch of solutions with different tastes is the way for sellers to attract young people to use e-cigarettes.
He said e-cigarettes not only attract young people in design and appearance, but also taste. In addition to nicotine, users also put the liquid with the taste of apple, chocolate and mint into e-cigarettes. It is very difficult to test to find hazardous substances in e-cigarettes because of the changeable substances.
Ha Nguyen