Revising key laws to lead Vietnam into the new era

The draft amendments to the Law on Investment and the Law on Enterprises feature notable changes and are expected to bring forward a more favourable investment climate when it is scheduled to take effect in 2021.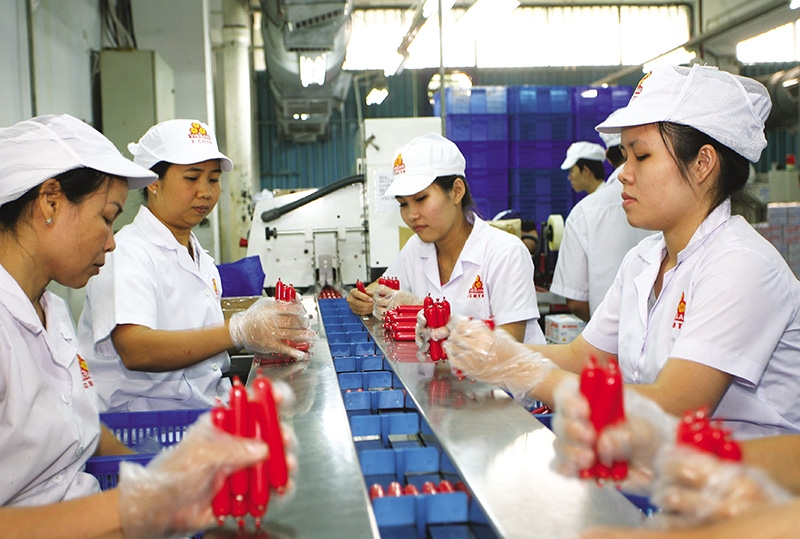 Investment incentives are just one addition to the changes
As a foreign investor looking for opportunities in Vietnam, Hong Nam-Pyo, representative of South Korea's Gomax remarked that it was important for investors like him to look at a list of sectors and trades in which foreign investors are subject to market access conditions in Vietnam, as well researching business lines which are not allowed for investment in Vietnam.
"In addition, clear regulations would help businesses make decisions faster. We need procedures to be less complicated, the rules to be fairly enforced, and companies to compete on their merits, including for access to land and opportunities," Nam-Pyo said.
This is the main purpose of the draft amendments to the Law on Investment and the Law on Enterprises that are being discussed at the National Assembly (NA), and the topic is the centre of attention for both foreign and local investors.
According to Minister of Planning and Investment Nguyen Chi Dung, who presented to the NA proposals on changes of these important laws, the amended Law on Enterprises would create favourable conditions for individuals and organisations to start businesses. It would cut administrative steps, costs, and time for newly-established firms and help raise Vietnam's ranking by 25 places in the World Bank's Doing Business Report. In addition, the rights, obligations, and benefits of shareholders, investors, and members of the company would be protected while the quality of corporate governance would be improved.
Meanwhile, the amended Law on Investment aims to improve the quality and efficiency of attracting domestic and foreign investment resources in accordance with the planning and development orientation of industries, fields, and localities on the basis of ensuring security, sustainable development, and environmental protection.
Positive movement
New lines added to the conditional business list
Six new business lines are added to the conditional business list, including:
- Data centre service business;
- Import press distribution service business;
- Fishing vessel registry;
- Electronic identification and authentication services;
- Training crew members of fishing ships, and providing architectural services.
Thus, in this latest draft law, Vietnam will have 236 conditional investment and business sectors.
Law firm ASL LAW remarked that one of the highlights of the draft amendment to the Law on Investment is the abolition of 12 conditional investment lines while six lines are being added. The draft law will therefore be very significant to foreign investors in Vietnam in the coming time (see chart).
The draft also contains additional conditional market access business lines for foreign investors. Specifically, as to implement the policy on the attraction of overseas investment under the Politburo's Resolution No.50-NQ/TW on orientations to perfect the efficiency of foreign investment by 2030, the draft investment law introduces a list of conditional market access business lines. With respect to unlisted business lines, foreign funders are afforded the same conditions as domestic investors. Other important additional regulations involve investment incentives.
Accordingly, it includes new preferential investment business lines: manufacturing and trading of products formed from science research, college education, manufacturing of goods or services provision creating and participating in a value chain or sector clusters, and innovation startups.
Resolution 50 has comprehensively assessed the situation of attracting and using foreign investment capital over the past 30 years, which clearly indicates the limitations and shortcomings in activities of attracting capital sources, such as: quality, efficiency of revenue, imbalance in attracting and using foreign capital, links between foreign and domestic investment sectors, and inspection and supervision of foreign investment activities. Meanwhile foreign investors, especially those who were involved in merger and acquisition deals in Vietnam over the past year, will see advantages as the draft on amending the Law on Investment proposes to remove the need for M&A approval if the relevant transaction does not result in an increase of the foreign investors' ownership ratio in the target economic organisation. This applies even if such target economic organisation operates in the business sectors subject to market access conditions applicable to foreign investors.
More propositions
The NA's Economic Committee said it found it necessary to review and revise regulations on investment incentives and support. However, the committee proposed supplementing cases in which investors do not comply with investment commitments, adding they must have sanctions to recover incentives. Chairman of the NA's Economic Committee Vu Hong Thanh stated that it is necessary to continue reviewing regulations on incentives and investment support to overcome the situation with different interpretations on the scope and subject of application.
It is also required to supplement criteria and conditions for the effectiveness and continuity of the investment project as a basis for determining the incentive, and ensuring clear and convenient procedures for enjoying investment incentives and support, especially for scientific, technical, and technological transfer support.
Some members from the committee suggested the government should design regulations in the direction of offering incentives to legal entities instead of projects to prevent transfer pricing between projects of the same investor, removing obstacles in tax administration for projects, especially M&A projects that have different incentive durations.
Meanwhile, Dang Duong Anh and Tran Thi Ha Phuong from Vietnam International Law Firm wrote to VIR previously about another hurdle. Specifically, the proposition involving Article 48.2 and Article 112.1 of the Law on Enterprises requests full contribution of charter capital within 90 days for the first time after enterprise registration certificate issuance.
The lawyers explained that the draft Law on Enterprises does not address this issue as such a short timeline should be extended for first time charter capital contribution.
There should also be clarity on the timeline for contributing charter capital as aforementioned to a plausible timeframe to support the investors and at the same time provide the authorities ample time with a clear legal base to manage the paperwork.
Nguyen Viet Ha Managing director, BowerGroupAsia Inc's Vietnam Office
Given the rapid economic development in recent years, Vietnamese regulators have been spending significant efforts on reviewing and revising laws and regulations to catch up with and facilitate economic activities.
Nevertheless, frequent regulatory changes could cause negative impacts on existing business and investment activities. Investors are concerned that the current laws on investment and enterprises have not yet protected investment activities against regulatory changes.
Article 13 of the Law on Investment only provides a guarantee for incentives in case of regulatory changes. Such guarantees would not be meaningful if such investors cannot continue their activities, because the governing laws or regulations change.
Therefore, it is strongly expected that the new Law on Investment will expand its scope of protection against regulatory changes in order to cover not only incentives, but also terms and conditions which have been duly granted under the investment license or business registration certificates.
Pham Duy Khuong - Managing director, ASL LAW
Some provisions of the Law on Enterprises are not compatible with the changes of relevant laws.
For example, there is an incompatibility between this law and the Law on Competition regarding procedures for notifying competition authorities in cases of mergers and acquisitions. This has many major consequences including time wasted, missed investment opportunities, and increasing costs. The new laws should focus on protecting the rights of shareholders. For example, one of the notable new points is to adjust the regulation stating that shareholders who own only 1 per cent of capital of an enterprise have the right to stand for election to the board, together with a number of other rights.
However, it is necessary to have feedback in accordance with the proposed 1 per cent, though it should be consistent with specific characteristics of Vietnamese businesses.
Dau Anh Tuan - Director of Legal Department Vietnam Chamber of Commerce and Industry
There will be many legal documents that need to be reviewed and amended in conformity with the international commitments. Reasonableness, consistency, feasibility, and transparency are the most vital elements contributing to the quality of a legal document. New legislation solutions should remove non-transparent regulations, continue to reduce barriers to market entry, protect business freedom, fight against interest groups and overlapping laws, and further consult the opinions of businesses and individuals.
The shortened drafting process should not be applied to influential laws in order to ensure involvement of all relevant stakeholders. Thus, during the drafting process of legal documents to ensure participation and involvement of all citizens and businesses, the use of fast-track drafting process should be minimised.
Alain Cany - Country chairman, Jardine Matheson Vietnam
The predictability of legal decisions is quite essential. Investment has to be protected against regulatory changes which may affect it in an unforeseeable and adverse way.
Rather extensive protections would need to be preferable, covering also the terms and conditions which have been granted to an investor under its investment license or business registration certificate.
We have to be sure that we can pursue our duly commenced, licensed, and retained business without interruption by later ­regulatory alterations. The aim of long-term investment in Vietnam corresponds with long-term clarity and legal certainty.
Mark Grillin - Head of the Tax & Custom Working Group, Vietnam Business Forum
Based on international experience of the do's and don'ts of a policy-drafting process, the first step that legislative bodies should pay attention to is identifying and sticking to specific objectives. Then, the drafting agency should identify the relevant stakeholders, ensure their involvement during the policy drafting process, and understand their interests and the importance of those issues to them. This avoids a situation in which a policy is made to serve the interests of single or several stakeholder groups while posing risks to others.
Therefore, a range of alternatives can be determined to avoid zero sum decisions when the loss to one stakeholder does not cause a proportional gain for others and vice versa. All relevant stakeholders, including enterprises in the industry and also in the supply chains and auxiliary industries, should be viewed as partners of legislative bodies during the policy development process to figure out the best solutions. VIR
Nguyen Thu 

Vietnam must continue to improve on its Law on Enterprises, experts and researchers said at a law conference in Hanoi yesterday.

Numerous sectors were added to receive incentives under the Draft Law on Investment to ensure it matches the new FDI strategy.