In the beginning of 2020, Vo Tong Xuan, a respected rice expert, predicted that Vietnam would have a prosperous year in rice exports with increases in both export volume and price.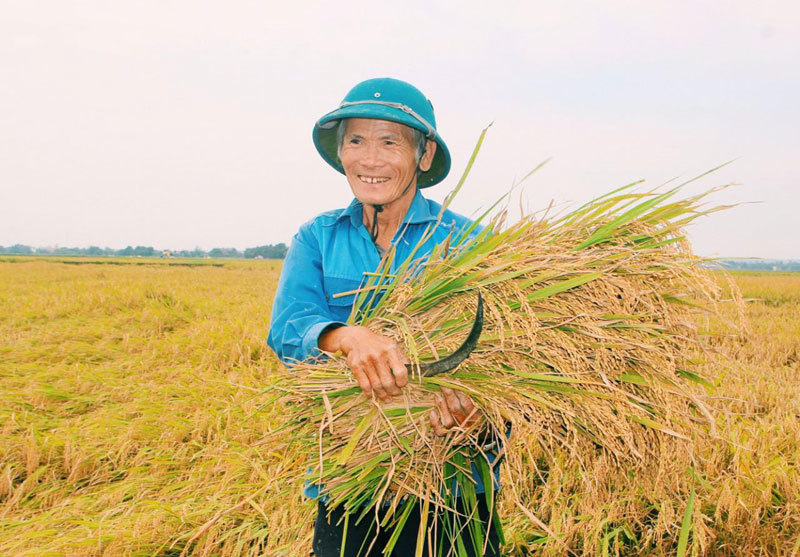 At that time, chair of the Thailand Rice Exporters Association Charoen Laothamatat shared the same view, saying that Vietnam may surpass Thailand in rice exports in the context of stiff competition in the market. The production cost in Thailand has become increasingly high, the baht is fluctuating, and the production is threatened by drought.
And the prediction was true. While the export of other farm produce slowed down in the first months of the year because of Covid-19, the export of rice saw a boom with a two-digit growth rate.
In the first two months of the year alone, Vietnam exported 66,222 tons of rice with export turnover of $37 million to the Chinese market, while the figure was 9,534 tons only, worth $4.5 million, which means a 600 percent growth rate.
The growth rate was described as unprecedented in the history of exporting rice to the 1.4 billion people market.
And in mid-May, Vietnam officially surpassed Thailand in rice exports. The Thailand Rice Exporters Association reported that Vietnam exported 2.9 million tons worth $1.41 billion, while Thailand exported 2.57 million tons by that time.
With these achievements, Vietnam jumped to second position in rice exports.
In mid-August, Vietnam's rice once again made a record. The Vietnam Food Association (VFA) then reported that Vietnam's 5 percent broken rice was traded at $493-497 per ton, while the rice of the same type at $473-477 per ton. Pakistan sold rice at $423-427 per ton and India $378-382.
According to the association, Vietnam's 5 percent broken rice price was the highest among the three rice export powers, namely Vietnam, Thailand and India. It was higher by $20 per ton than Thailand's, $70 than Pakistan's and $115 than India's.
In November, Vietnam's rice price for the third time surpassed the price of the same type of Thailand and India. In early December, Vietnam's 5 percent broken rice was offered at $493-497 per ton, higher than Thailand's ($475-485) and India's ($366-370).

Vietnam's 5 percent broken rice price was the highest among the three rice export powers, namely Vietnam, Thailand and India. It was higher by $20 per ton than Thailand's, $70 than Pakistan's and $115 than India's.
Experts said the demand for storing rice from many countries is increasing, predicting that the export volume of 6 million tons this year is within reach.
Meanwhile, Vietnam's ST 25 rice was recognized as the most delicious rice variety in the world.
Farmers earn big money
Vietnamese rice farmers have had a prosperous year. The demand is so high that merchants come directly to the fields to collect rice, and many of them place orders while rice is unripe.
Head of the Department of Crop Production Nguyen Nhu Cuong told VietNamNet that the harvesting of the winter-spring crop in the Mekong Delta has finished and farmers now sell rice at VND1,000 per kilogram higher than last year.
Farmers have had the most bountiful crop ever this year. Mekong Delta farmers have 1.54 million hectares of winter-spring rice and the average yield is 70 quintals per hectares, even higher than 2018.
The winter-spring crop in the coastal areas in the south of the central region and Central Highlands also shows a record high yield.
Nguyen Van Tam in Trung Thanh commune of Can Tho City said 2020 has been a rarely prosperous year for farmers as rice crops have not faced historic drought and saline intrusion. And the yield has been high, rice has sold well, and the selling price is high.
Tam's family had 6 hectares of autumn-winter crop this year. Merchants came when the rice was unripe and placed orders at VND5,700 per kilogram, or VND700 higher than the previous year.
In fact, saline water intruded more deeply and earlier than in previous years. However, farmers, who were warned of early saline intrusion, now have better experience to cope with saline and were able to avoid the problem.
The sowing was carried out 15-30 days earlier, while farmers used short-term drought and saline resistant rice varieties.
Do Ha Nam, deputy chair of the Vietnam Food Association, commented that Vietnam's strategy on rice variety restructuring has brought achievements.
Farmers have increased the cultivation of fragrant high-price rice to sell to large markets such as Japan, South Korea and European countries. 
Tam An

The Government has directed the Ministry of Industry and Trade to coordinate with other relevant agencies to support local enterprises exporting rice to the European Union (EU) to make the most of EVFTA,

In the first half of this year, rice export value jumped 18.6% year-on-year to US$1.71 billion.