Rise of eBooks leaves book publishing industry needing to refresh the page
The fourth industrial revolution, or Industry 4.0, has brought about fundamental changes in various fields, including the book publishing industry.
The fourth industrial revolution, or Industry 4.0, has brought about fundamental changes in various fields, including the book publishing industry. Many people now prefer reading through electronic books (eBooks) and virtual reality (VR) books, meaning publishing houses will be left behind unless they manage to figure out a new orientation for their operations.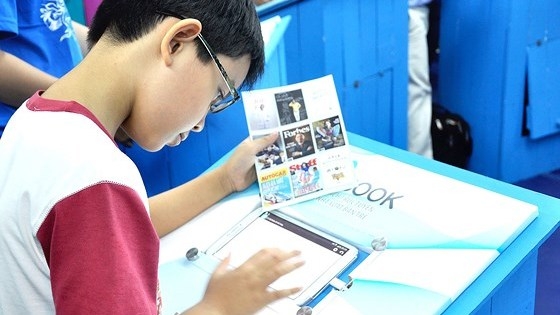 The birth of eBooks has started a revolution in the publishing circle and people's reading habits. (Photo: sggp.org.vn)
Although printed books still play a strategic role in the book market in Vietnam and the world in general, it is undeniable that physical books no longer hold their dominance as in previous years. The emergence of eBooks, and particularly applications and software allowing the exchange and purchase of eBooks, have brought about a complete revolution in the publishing circle and in people's reading habits.
The major change in the book business was confirmed by the 2011 victory of Amazon Kindle over Borders, a once-mighty book chain. Before its bankruptcy, Borders had operated its book stores in Australia, New Zealand, Singapore and the US, with a total workforce of about 16,500.
EBooks have become more popular among Vietnamese readers and have shown huge potential for development over recent years. However, only 137 publications out of the near 26,000 released in 2017 were registered for deposit as digital publications, according to statistics released by the Department of Publishing, Printing and Issuing under the Ministry of Information and Communications. The figure partly reflects the indifference of Vietnam's publishing industry to eBooks.
Needless to say, Vietnam's publishing houses have not yet given due attention and investment to developing applications for book reading and improving their customer service.
Facts have shown that the challenges faced by publishers are not restricted to Vietnam. The book publishing sector in many countries around the world has to cope with considerable pressure as a result of Industry 4.0, as smartphones and tablets have become essential items for people. Instead of reading a book, people now prefer spending their time on social networks, online games, and films.
A survey conducted by Pew Research Centre in 2016 concluded that an average adult in the world reads four books a year, a drop from six books in the 2012 survey. The survey also found that up to 73% of American adults aged 21 years and above hadn't read a book over the past 12 months.
Most recently, Japan's National Federation of University Co-operative Associations on February 27 announced that its survey found that more than half of Japanese university students do not read outside of their studies. Accordingly, 53.1% of respondents said they spend zero hours a day reading physical books.
The situation in Vietnam isn't much better as each Vietnamese person reads an average of 1.2 books a year.
In an interview about the future of digital publishing granted to independent website Scroll.in in April, Arnaud Nourry, Hachette Group CEO – one of the world's Big Five English language publishers, said that he was convinced there was something his company could invent using their content and digital properties beyond eBooks.
However, he reached the conclusion that they didn't really have the necessary skills or talents in their companies because publishers and editors are accustomed to picking a manuscript and creating a design on a flat page. They don't really know the full potential of 3-D and digital.
In response, his company have acquired three video game companies in the last two years to attract talent from different industries and see how they can nurture one another and how they can go beyond the current incarnations of the eBook.
"We need to offer different experiences to our consumers," he concluded.
Throughout human history, book reading has proven to be a good and rewarding habit as it provides access to the vast source of human knowledge while nurturing and perfecting readers' dignity.
Opportunities and challenges brought about by the digital age have laid down the challenge, that it is time for Vietnam's publishing industry to refresh its operations in order to keep it up to date with reading trends and to meet the increasing demands of readers.
Nhan Dan