Rising petrol prices challenge inflation control efforts
The goal of maintaining inflation at 4% this year will be threatened unless viable solutions are introduced in a bid to rein in rapidly-increasing petrol prices, according to economic experts.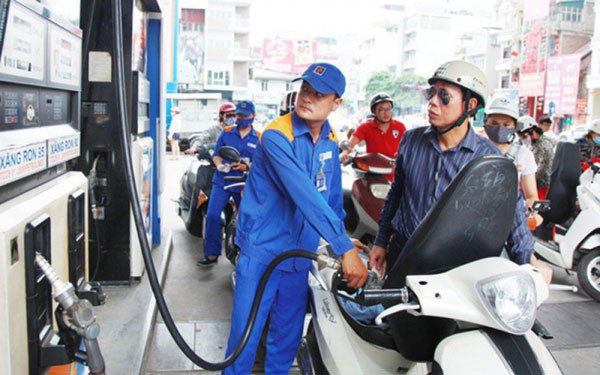 Petrol prices likely to approach VND32,000/litre
Statistics compiled by Singapore's petroleum market updated by the Ministry of Industry and Trade indicate that fuel prices continued to increase sharply on May 27. Indeed, petrol RON92 and petrol RON95 were traded at US$146.08/barrel and US$154.26/barrel, respectively, while diesel was capped at US$149.49/barrel, all representing increases from US$146.32/barrel, US$150.32/barrel, and US$141.15/barrel recorded 10 days earlier.
In their price adjustments which are poised to take place on June 1 by the Ministry of Finance and the Ministry of Industry and Trade, the retail price of petrol in Vietnam is likely to rise by up to VND800/litre and will be close to VND32,000/litre. According to a petroleum trading business in Ho Chi Minh City, the domestic retail price of petrol is even projected to skyrocket to an all-time high of VND35,000/litre this year.
The General Statistics Office, while announcing major socio-economic indicators in May and the initial five months of the year on May 29, reported that the consumer price index (CPI) for May increased by more than 0.38% from the previous month, by 2.48% compared to December 2021, and by 2.86% over the same period last year. Together with food and essential commodities prices, rising prices of petrol can be viewed as a major reason behind the sharp increase in CPI.
Most notably, petrol products have experienced 13 price adjustments during the opening five months of the year, with the retail prices of petrol RON95, petrol E5 RON92, and diesel edging up by VND7,360 VND/litre, VND7,080/litre, and VND7,980/litre, respectively. On average, five-month petrol prices rose by 49.95% over the same period last year, prompting the overall CPI to climb by 1.8%.
Tax regulation can be an effective tool
Moving forward, petroleum prices are likely to rise over the coming months due to unpredictable oil market fluctuations resulting from the ongoing conflict in Ukraine. The Government has utililsed the petrol price stabilisation fund and axed the environmental protection tax in an attempt to cool down the domestic fuel market. However, the latest market developments indicate that without more radical solutions being introduced, the goal of controlling inflation and stabilising the macro-economy will be threatened by the sharp increase in petrol prices.
Trade expert Vu Vinh Phu forecasts that prices of consumer goods will increase by a further 15% to 17% ahead in the final two quarters of the year in the event that gasoline prices continue to increase in a consistent manner.
"The actual market prices have quietly increased much faster than estimated, and pressure will grow further when a higher basic wage is due to be applied this July. In order to control inflation, I think there is no alternative but to keep a tight grip on fuel prices," says Phu.
Sharing this view, economic expert Ngo Tri Long points out the current difficulty in controlling petrol prices, explaining that tax reductions require the approval of the National Assembly, while the price stabilisation fund which can be used as an effective tool to cool down prices is running a deficit.
"In order to allay the increase in petrol prices, we have to reduce taxes and accept lower budget revenue in exchange for achieving the inflation control goal," suggests Long.
Concurring with Long, Dr Vu Dinh Anh, another economic expert, suggests that the Government further reduce the excise tax, value-added tax, and environmental protection tax placed on petroleum.
"Taxes account for nearly 40% of the retail price of every litre of petrol, which is quite high. Therefore, the most suitable solution to lower fuel prices this time is to regulate and reduce taxes," says Dr Anh.
Source: VOV