VietNamNet Bridge – Despite recent signs of recovery, the real estate market in HCMC is still facing risks such as an unclear development orientation, a lack of transparent market information and an imbalance between supply and demand.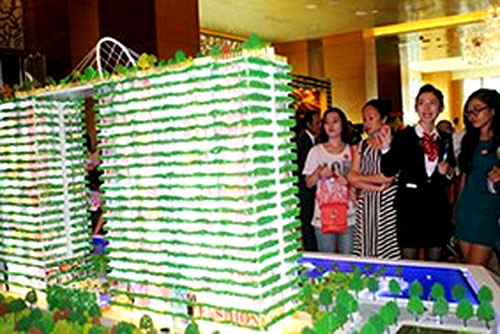 An employee of a real estate firm introduces a new housing project to potential customers. HCMC's real estate market is facing an unclear development orientation, a lack of transparent market information and an imbalance between supply and demand – Photo: Manh Tung
Such risks were pointed out at a conference last week on the current situation, potential, solutions and development orientations of the HCMC property market. The HCMC Department of Construction held the event to collect comments on and proposals for a project to develop the property market in 2016-2020 with a vision towards 2030 as assigned by the city government.
Tran Trong Tuan, director of the department and project leader, told the conference that HCMC's property market has shown signs of an oversupply of luxury apartments but an undersupply of homes for medium- and low-income people while demand in these two segments is bigger than the former.
Tuan also said inconsistent and overlapping regulations in the sector are among major hurdles to the sustainable development of the real estate market in the city.
Speaking at the conference, Dr. Nguyen Ngoc Vinh from the HCMC University of Economics said regulations on the property market were issued by different agencies, hence inconsistency. This has forced enterprises to spend a lot of time going around seeking approval for their realty projects or transactions.
Building a transparent information system for the real estate market is slow, Vinh said.
Dr. Pham Thai Son, deputy leader of the project, said that the management of housing developments in the city is mainly based on construction ratios. Meanwhile, other important indicators such as families' ability to get access to housing projects, the quality of apartments or land prices have not been built, and this is why there has not been an overall assessment for the local property market, Son said.
Son said HCMC now has 1,219 housing projects including residential buildings under upgrade. Of the total figure, 40% are complete, 33% in the paperwork handling process, 19% under construction and 8% suspended.
Son said the completed housing projects are small and account for 25% of the apartments planned to be built in the city.
However, figures of the HCMC Real Estate Association showed a gloomy picture of the property market in the city as 97 out of 325 projects that got off the ground have been put on hold. Investors have not broken ground for 405 of the 1,219 registered housing projects.
The association noted that in spite of recovery, property market growth is not sustainable with a lot of half-done housing projects still stuck.
Many projects have stood still for years due to slow site clearance, even those where 80%-98% of land is cleared, because investors have failed to reach compensation agreements with affected households.
The association urged the city government to quickly find ways to support developers of projects with over 80% of site clearance finished.
SGT