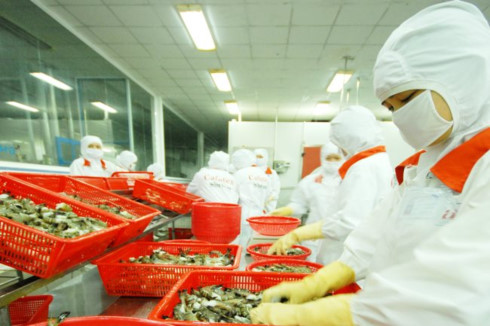 Shrimp processing for export in the Mekong Delta. Vietnamese enterprises should be the first to come up with schemes for self-protection – PHOTO: LE HOANG VU
The decisive moment of the global trade war initially waged by the United States may come soon at the G-20 Summit in Japan scheduled at the end of this month.
The whole world is now seemingly pinning all hopes on the summit meeting between U.S. President Donald Trump and Chinese President Xi Jinping. The U.S.-Mexico-Canada trade pact may be moved to Congress this summer after the Mexican Government has agreed to make certain compromises on the control of the illegal migrant flow into the U.S.
Meanwhile, negotiations on trade between the U.S. and Japan, the European Union and India, respectively, are under way as trading partners hope to avoid tax slaps.
When the Sino-American trade war erupted a while ago, some economists were quick to point out that Vietnam could be the first to benefit from it, placing emphasis on a shift of production lines from China to Vietnam.
This argument seems well-founded as foreign-invested investment from China to Vietnam surged rapidly in the first months of 2019. During the Jan.-May period, investment in Vietnam registered by Chinese enterprises amounted to US$1.56 billion, making an unprecedented upsurge of 450% year-on-year.
Notably, this was the first time ever China had surpassed other investors, such as the Republic of Korea and Japan, to become the number-one foreign investor in Vietnam.
However, please bear in mind that the total figure is merely registered capital. Another point relates to the fact that the sum is the total capital pledged by 233 Chinese projects. On average, the capital of each project is as small as US$6.7 million.
Furthermore, many other issues should be taken into account, like what the industries invested in by Chinese enterprises are and whether they are environment-friendly, and short-term or long-term. Next, whether enterprises moving out of China come to Vietnam or not depends largely on where they have positioned their value chains.
Surely enough, if Apple withdraws from China, the next destination is without doubt India. And if foreign manufacturers of consumer electronics (such as TVs, refrigerators and air conditioners) in China mull over a relocation, the landing place will possibly be Thailand whose supporting industries are far ahead of Vietnam. How big are the opportunities for Vietnam? Only time can tell. For now, they are simply guesswork.
Risks looming large
A short while ago, the U.S. Department of Commerce has received complaints lodged by American companies that accuse Vietnam's Minh Phu of dodging anti-dumping tax with the use of India shrimp. Minh Phu is alleged to import shrimps from India to process at the minimum level before exporting them stateside.
In reality, Indian seafood exporters have been slapped with anti-dumping taxes since 2005 now. This means it's highly likely that U.S. anti-dumping taxes will be inflicted on Minh Phu's shrimps sooner or later. 
Behind the scene, however, is the fact that the U.S. Government wants to re-negotiate her trade pact with India. The American side contends that although it has given Indian partners an array of incentives as per the Generalized System of Preferences (GSP) over the years, U.S. enterprises have not received corresponding preferences from India. Consequently, India has become one among the countries enjoying a huge trade surplus with the U.S. in many consecutive years.
Likewise, in 2018, the U.S. and the European Union simultaneously imposed high tariffs on Chinese steel exports. Afterwards, suspecting that Vietnamese enterprises imported Chinese steel to re-export it stateside, the U.S. Department of Commerce slapped a 199.76% anti-dumping tariff and a 256.44% anti-circumvention tax rate on Vietnamese cold-rolled steel exports. 
It can be said that Indo-American and Sino-American trade tension has exerted indirect impacts on Vietnamese enterprises. This move plus Vietnam's continuous high trade surplus with the U.S. has earned Vietnam a slot in the U.S. list of countries which need being monitored for monetary manipulation released last month. All considered, while the new wave of foreign direct investment has yet to unleash, risks faced by Vietnamese companies as well as the entire economy are quite visible.
Who can protect Vietnamese enterprises?
Risks may further heighten as in the first five months of this year, the sales of some Vietnamese exports to the U.S. rose sharply. For example, wood and woodwork exports stateside earned US$1.84 billion in sales, a jump of 35% from the year-earlier period; computers and electronics, US$1.78 billion, 72%; and machinery and tools, US$1.69 billion, 54%.
Nobody can tell where the U.S. will probe into these exports and treat them the same way as she did with Vietnamese steel and shrimp. Nevertheless, one thing is fore sure: risks will run high for these three commodities of Vietnam.
To cope with this situation, Vietnamese enterprises should be the first to come up with schemes for self-protection. They should proactively collect data and send relevant reports on the origin of their materials or production processes to the U.S. Department of Commerce.
This is what Minh Phu has done during the 10 years from 2005 to 2015, when it supplied periodically data of origin and production processes. In 2016, Minh Phu's products were removed from the U.S. anti-dumping tariff list.
However, in the long run, related Vietnamese agencies should devise radical measures to systematically minimize these risks. First, it is necessary to disseminate information about the U.S. import-export tariff systems among Vietnamese enterprises. To enjoy U.S. import tariff incentives, a beneficiary should achieve a rate of at least 35% for local materials used in its production.
Secondly, the General Department of Vietnam Customs and the Ministry of Industry and Trade must take effective measures when dealing with enterprises intentionally taking advantage of Vietnamese trade system for profiteering, as they adversely affect other enterprises and the whole industry. SGT

The US-China trade war and Chinese yuan devaluation have increased the risk of a widening trade gap, with more imports from China flowing to Vietnam.

Rising fears about the US-China trade war are forecast to continue to drag down market sentiment and dampen investor confidence.  

The Sino-American trade war is escalating in unpredictable ways. Contrary to some analyses, its impacts on Vietnam are arguably beneficial. A vulnerable economy such as Vietnam's is unlikely to benefit from this global war.