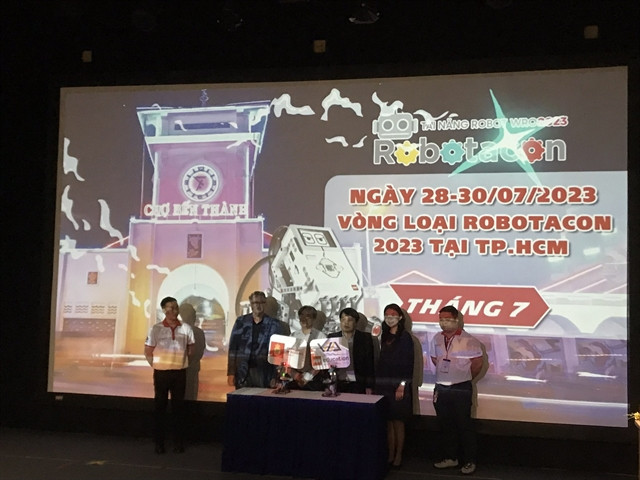 The 2023 Robotacon - World Robot Olympiad was kicked off in HCM City on May 26. — Photo courtesy of Embassy of Denmark
With the theme 'Connecting the world', this year's contest is co-organised by the Embassy of Denmark in Việt Nam and Việt Tinh Anh JSC's LEGO Education brand.
It is a prestigious educational contest for students aged six to 19 who are interested in Robot LEGO Education, which is based on a science, technology, engineering, arts and mathematics (STEAM) educational approach.
This is a playground for young Vietnamese to learn necessary skills for the 21st century, such as critical thinking, teamwork, problem-solving, and mastering technology.
It also provides an opportunity for students to innovate and discover, helping to build a generation ready to face and solve the problems and challenges of the future.
This year's contestants will be divided into groups with tasks under various topics of common interests of international issues such as marine life conservation, underwater infrastructure and port automation.
The Robotacon - WRO tournament in Việt Nam will have two qualifying rounds in HCM City with an expected 300 teams from the south and in Hải Phòng city with an expected 200 teams from the north. The final round will be held in Hà Nội in August.
The winning teams of the Robotacon - WRO tournament in Việt Nam will take part in the 2023 WRO international competition to be held in Panama in November.
A contest launching ceremony was also held in Hà Nội in April.
Robotacon - WRO, first held in 2004, has so far attracted more than 22,000 contestants from more than 90 member countries.
Every year, about 22,000 teams compete at the national level, and 600 teams, equivalent to 2,000 contestants, participate in the international final round which is held alternately among the member countries.
Since 2016, Vietnamese teams have achieved many impressive achievements at World WRO competitions, including three silver and eight bronze medals.
Việt Nam and Denmark have been cooperating closely in the education sector since 2005, when a programme was launched to support Việt Nam in introducing a new learner-centred arts education and developing a new arts curriculum for primary schools.
Education continues to be one of the priority areas for cooperation between the two countries under the comprehensive partnership agreement signed in September 2013. — VNS