Rooftop helipad opens at HCM City Military Hospital
A rooftop helipad for emergency air services opened on Saturday at the Military Hospital 175 in HCM City under the Ministry of National Defense.
The helipad, located on the roof of the Traumatology and Orthopaedics Institute, will be used for pre-hospital emergency-care delivery. The 500-bed institute on the hospital's campus opened in December last year.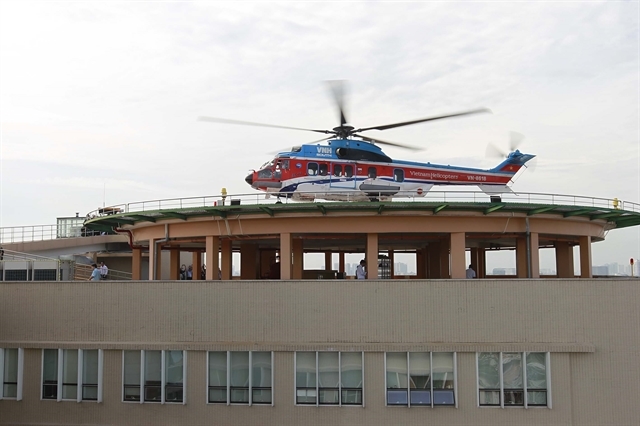 The helipad, which was opened after successful test flights, meets the required conditions and standards for rooftop helipad operations, said Major General Nguyen Hong Son, director of the hospital.
The helipad will reduce the time it takes to get treatment for life-threatening conditions, Son said.
Previously, patients arriving via helicopter had to be transported in an ambulance from a helipad at Tan Son Nhat International Airport to hospitals, he said.
The Military Hospital 175 plans to develop an emergency centre for response by air, road and water to provide emergency care and a range of natural disaster relief, Son added.
The hospital, in coordination with Division 370 of the Air Defense and Air Force Service, has had seven to 10 cases of emergency deliveries by air annually a year, including patient transfers from the southern islands and remote areas in the country.
VNS

For the first time in history, doctors in Vietnam have successfully carried out two bowel transplants from live donors, considered one of the most difficult organ transplant techniques.