Rules of origin pose questions for sectors jostling for position

Although the free trade agreement between the EU and Vietnam will offer great opportunities for wood investors and exporters, its rules of origin may not provide a big boon to local textile and garment businesses.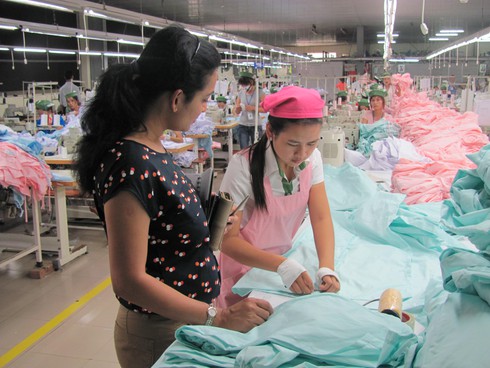 Rules of origin pose questions for sectors jostling for position
The Vietnamese economic picture was given a shot in the arm two weeks ago as the EU-Vietnam Free Trade Agreement (EVFTA) was officially ratified by the European Parliament, with the deal slated for adoption by the European Council and Vietnam's National Assembly this summer.
Last year, Vietnam raked in export turnover of $41.7 billion from the EU, with the biggest earners being garments and textiles ($4.4 billion) and wood products ($900 million).
According to the Ministry of Industry and Trade (MoIT), the EVFTA will theoretically provide immense opportunities for Vietnamese businesses to boost exports to European markets via cuts in import taxes, especially in many items that are Vietnam's strengths such as agro-forestry-fishery products and garments and textiles.
After the EVFTA takes effect, a zero tax rate will be applied to coffee, pepper, vegetables, fruit, and natural honey. About 83 per cent of tax lines will be removed for wood products, and the remaining 17 per cent will be phased out in a roadmap from three to seven years for wood fibre, woodchips, and plywood.
For garment and textile products, the existing average tax rate of 12 per cent will be reduced to zero over a period of three to seven years.
However, in order to benefit from such tax reduction, enterprises in Vietnam must meet the EVFTA's strict rules of origin (ROO), depending on the industries they are operating in. For example, while those in the wood industry feel at ease, those in the garment and textile industry may not be happy with the changes.
Boosting wood exports
Since early this year, New Zealand's Sequal Holdings Ltd. has boosted export of its Radiata pine wood materials to Vietnam's Vinafor Saigon following a co-operation deal inked last October in Hanoi.
With a clear origin, Radiata pine wood from New Zealand is a sustainable plantation-grown timber.
"We aim to boost exports to the EU and other markets," said Vinafor Saigon's general director To Ngoc Ngoi.
The two businesses' co-operation means Vinafor can meet ROO in not only the Comprehensive and Progressive Agreement for Trans-Pacific Partnership in which Vietnam and New Zealand are members, but also in the EVFTA, which stipulated that materials of export products shipped to EU member states must be sourced in Vietnam or the EU, or in a third party with which the EU has an FTA.
The EU-New Zealand FTA has been under negotiation since 2018 and is expected to conclude within two to three years, according to New Zealand's Ministry of Foreign Affairs and Trade.
Last June the Forest Law Enforcement, Governance and Trade Voluntary Partnership Agreement (FLEGT-VPA) between Vietnam and the EU officially took effect. Facilitating fruitful implementation of the EVFTA, it will "help improve forest governance, address illegal logging, and promote trade in verified legal timber products from Vietnam to the EU and other markets," said Heidi Hautala, a member of the European Parliament.
Under the FLEGT-VPA, all timber and timber products arriving in the EU from Vietnam have been carrying a FLEGT license issued by Vietnam.
According to the Timber and Forest Product Association of Vietnam (Vifores), the EVFTA's ROO does not mean a barrier to Vietnam-based wood product exporters.
"Besides the FLEGT-VPA, almost all timber materials are from EU nations such as France, Germany, and Spain. So enterprises can boost exports to the EU without any worry about ROO," Vifores vice chairman Nguyen Ton Quyen told VIR.
The EU currently purchases 30 per cent of Vietnam's wood exports, which were worth $900 million last year and expected to be $1.2 billion this year.
Quyen said almost all exporters have secured export orders from the EU for 2020, such as Woodland ($70 million) and Nafoco Nam Dinh ($40 million) in the north; Tien Dat, Dai Thanh, Hoa Hung, Phu Tai, and Thang Loi in the central province of Binh Dinh ($400 million in total); and Can Pacific, Minh Duong, Minh Phat, Hiep Long, and Long Viet in the south ($400 million in total).
"Vietnam has expanded its wood exports to the EU from traditional markets of Germany, France, Italy, the UK, and Spain to newer markets of Poland, the Czech Republic, Hungary, and Bulgaria," Quyen added.
Bui Nhu Viet, general director of Long Viet Wooden Technology JSC, said that firms like his "are about to enjoy a zero tax rate when exporting products to the EU under the EVFTA."
"Many exporters are shipping their products to the EU, and the EVFTA will be a big boost. They have planned to increase export revenue from the EU by 10-25 per cent in 2020," Viet said. "They have all legal wood materials and are not anxious about the EVFTA's ROO."
Material barriers
Meanwhile, according to the MoIT, to benefit from tax slashes in the EVFTA, Vietnamese textiles and garments must strictly obey ROO, meaning product materials must be sourced from Vietnam or the EU, and the cutting and sewing processes must take place in either, too.
However, the EVFTA also allows materials sourced from South Korea or Japan, with which the EU has FTAs, to be eligible for tax incentives.
But currently, the majority of materials used by Vietnam to produce garments and textiles have been imported from China and Taiwan – which have no FTA with the EU.
This means it would be impossible for firms to benefit from the incentives if they continue depending on materials from China and Taiwan.
In a specific case, Nguyen Van Hung, chairman of textile manufacturer Corporation 28 in Ho Chi Minh City, said that though 40 per cent of the firm's key products of high-end suits are exported to the EU, it may not benefit from tax reductions under the EVFTA.
"It is because we have still had to import wool materials from China," Hung said.
Elsewhere, Viet-Taiwanese joint venture Phuong Hai Garment and Textile JSC in the northern province of Hung Yen, said it will also be unable to enjoy the EVFTA's tax reductions.
"We are now importing materials from China and Taiwan. If we want to benefit from the incentives, we'll have to shift to importing materials from the EU, Vietnam, South Korea, or Japan. But it is not an easy job," said Nguyen Ngoc Phuong, vice director of the company.
However, some firms are to benefit from the incentives. For example, Than Duc Viet, general director of Garment 10 Company, said that his company is happy with the ratification of the EVFTA, with not much to worry about regarding ROO, because Garment 10 has been able to self-secure materials for production.
Currently 40 per cent of the company's products are exported to Germany, the Netherlands, and France.
"Many investors have built their factories in Vietnam to produce textile and garment materials. We have forged good relations with suppliers in order to secure sufficient materials for our production and exports," Viet said.
In fact, over the past few years, many foreign firms have built factories to produce garment and textile materials in Vietnam, in order to cash in on ROO in FTAs that Vietnam has with partners.
Last year, the southern province of Binh Duong allowed South Korea's Kyung Bang Vietnam to expand its investment by an additional $40 million to raise its annual cotton yarn production capacity to 9,000 tonnes and blended yarn production capacity to 11,000 tonnes. With this additional capital, the project now has the total investment of up to more than $219 million.
Meanwhile, Taiwan's Far Eastern Group has also invested hundreds of millions of US dollars into a project of fabric and chemical yarn in Binh Duong, and is continuing to hire more land there to expand investment.
In addition, Singapore's Herberton Co., Ltd. is operating a textile and garment factory in the northern province of Nam Dinh, with the total investment of $80 million. The factory has an annual capacity of 25,000 tonnes of fabric and 15 million apparel items, and offers jobs to around 3,000 people.
In 2019, Vietnam's garment and textile export turnover from the EU hit $4.4 billion, up 2.23 per cent on-year and holding 11.3 per cent of Vietnam's total garment and textile export turnover. VIR

Garment and textile firms are aware of the opportunities to expand their export markets arising from the EU-Vietnam Free Trade Agreement (EVFTA) but are facing difficulties in complying with the rules of origin.

The Ministry of Industry and Trade urged firms to strictly comply with rules of origin to avoid negative impacts on exports amid escalating trade defence measures.