Rules of origin trip up garment and textile opportunities from EVFTA

Garment and textile firms are aware of the opportunities to expand their export markets arising from the EU-Vietnam Free Trade Agreement (EVFTA) but are facing difficulties in complying with the rules of origin.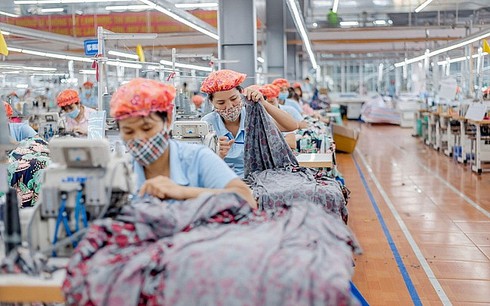 Many garment and textile producers are daunted by the EVFTA rules of origin
The benefits of EVFTAcan best be seen in the garment and textile sector, with enterprises expected to enjoy plenty of room to expand into new markets due to the regulations setting out tax reductions.
According to the Ministry of Planning and Investment, Vietnam's textile and garment export turnover to the EU will increase by 81 per cent.
Most notably, in the context of unpredictable global developments such as trade protectionism, trade tensions, and the ongoing impact of the novel coronavirus, the trade deal could help local garment and textile firms boost their exports, persify markets, and achieve higher added value through the establishment of fresh supply chains.
The EVFTA opens opportunities for businesses with material autonomy as well as those with large EU groups of customers, such as TNG Investment and Trading JSC (TNG) and Thanh Cong Textile Garment-Investment-Trading JSC (TCM).
The EU is the largest market of TNG, accounting for 54 per cent of sales, while it makes up 40 per cent of GMC's total revenue. For TCM, the EU currently contributes only about 5 per cent of sewing revenue, however, with 60-70 per cent material autonomy, TCM is expected to meet EVFTA rules of origin.
Despite the EU being considered a promising market, in order to qualify for tariff exemption under the EVFTA, companies will need to increase the localisation rate of fabric because the EVFTA rules of origin (which are applicable from the fabric stage forward) are considered the largest barriers for garment and textile producers.
Along with Vietnamese fabrics, those imported from South Korea for export manufacturing are recognised to meet the EVFTA fabric-forward rules of origin and enjoy zero tariffs. Meanwhile, 60 per cent of imported fabrics come from mainland China and Taiwan at a far lower cost than fabrics imported from South Korea.
Thus, a number of garment and textile producers are sceptical of opportunities from this market. One of them is Song Hong Garment JSC, the representative of which said that the company cannot meet this requirement, and so will not be able to tap into the benefits of the free trade agreement. Additionally, the company does not expect to suffer an impact from this decision because its priority market has been the US for years now.
Other garment and textile producers also expressed intentions to focus on their traditional markets due to the low cost of materials from China. Even when the delays in supply from China due to COVID-19 pushed them to look for raw material imports from other markets such as South Korea, India, Bangladesh, and Brazil, many saw this as nothing more than a temporary solution.
Pham Xuan Hong, chairman of the Ho Chi Minh City Textile Association, said China simply cannot be replaced as the main supplier due to its much lower costs, while Truong Van Cam, vice chairman and general secretary of the Vietnam Textile and Apparel Association (Vitas), said that a significant portion of the textile industry's feedstock is from China. VOV

Vietnam's garment-textile sector is expected to make breakthroughs in 2020 thanks to the Fourth Industrial Revolution.

Textile stocks have been on an temporary upswing thanks to the recent ratification of the EVFTA but textile enterprises still face difficulties due to heavy dependence on imported raw materials and reduced demand worldwide.