Safe farm develops from polluted dump

A man in the central city of Da Nang has turned a local dump into a high-tech garden to supply fresh and healthy vegetables to local residents and markets.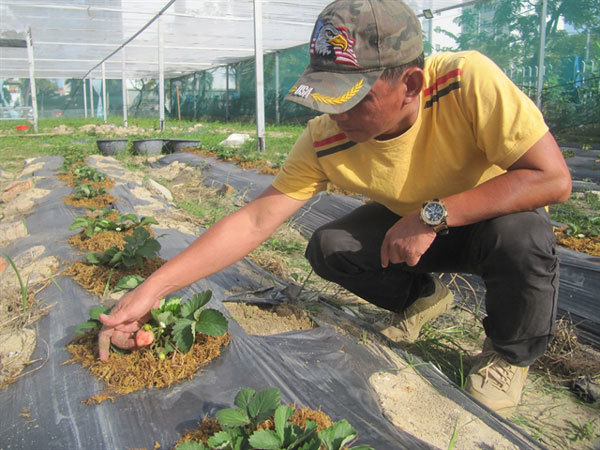 Le Thanh Binh checks the first strawberry plot at the Việt Phú Farm in Da Nang City. The farm was built on an aware dump in a community in Son Tra District. — VNS Photo Cong Thanh

Covering 5,000sq.m in Nai Hien Dong Ward in Son Tra District, Le Thanh Binh's garden was originally designed as a public park, but it was left vacant for years due to a lack of investment. It was then heavily polluted by rubbish dumped by local residents over many years.
Binh, who comes from Quang Ngai Province, invested VND2.1 billion (US$91,000) to build his 'green' Việt Phú Farm with hydroponic technology from Israel.
The first harvest after 25 days supplied 150kg of fresh vegetables – a third of the designed capacity of the farm – for the local community and markets each day.
Binh said he designed the farm with a shopping area in the middle of the garden to show customers a real agricultural demonstration with fresh produce.
"I chose the model because customers could watch the gardening process at the farm. They have to know what vegetables they will cook for their family's meals. I want to introduce a non-soil and chemical-free high-tech farm in the tourism hub," Binh said.
"All seeds and technology were imported and tested by suppliers from Israel. I try to persuade customers to choose healthy consumption and safe food for daily cooking," he said.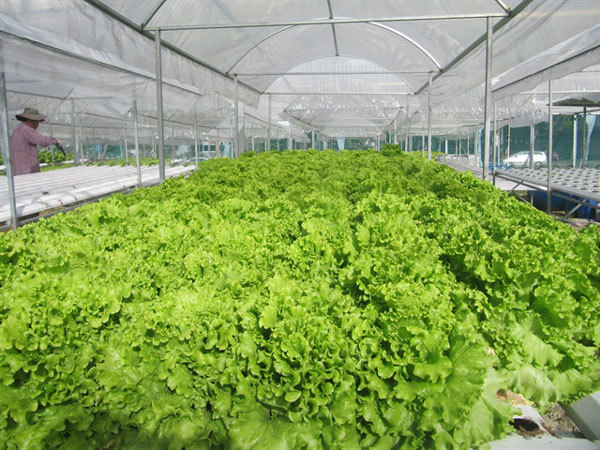 A worker waters plants at Việt Phú Farm. The farm supplies 150kg of fresh, safe vegetables to local markets each day. — VNS Photo Cong Thanh

Binh said he also piloted growing 500 strawberries from Kobe, Japan, as well as grapes and apples from Bordeaux, France.
"We sent soil for testing at laboratories in Kobe and France, and seeds were selected following strict requirements and technique consultancy from Japanese and French experts to ensure quality and skills," he explained.
The first Japanese strawberries were sold at VND250,000 per kilo ($10.8), while vegetables were offered at VNĐ50,000 ($2.1) per kilo.
The Việt Phú Farm director said he also developed a sapling zone in Dien Minh Commune of Quang Nam Province to supply 50,000 saplings each month, while a partner, H2O Farm Vietnam, provides an additional 25,000 varieties.
Tran Thu Huong, a housewife in Son Tra, said she was impressed with the farm as she could collect fresh vegetables at it.
"It's fresh and clean. I can see what kind of fertiliser and water quality the farm used," Huong said.
"The farm produce is the best choice when you are scared of the overuse of chemical fertiliser and pesticides in agricultural production. The price is very competitive compared to traditional markets."
In the first stage, Việt Phú Farm's hydroponics are limited to growing only leafy vegetables, but Binh plans to expand to roots, tomatoes, potatoes, beans and others.
Earlier, Binh also built a sapling garden in a dump in Son Tra to supply the main Việt Phú Farm.
The farm shop also provides environmentally-friendly biodegradable and canvas bags instead of single-use plastic bags.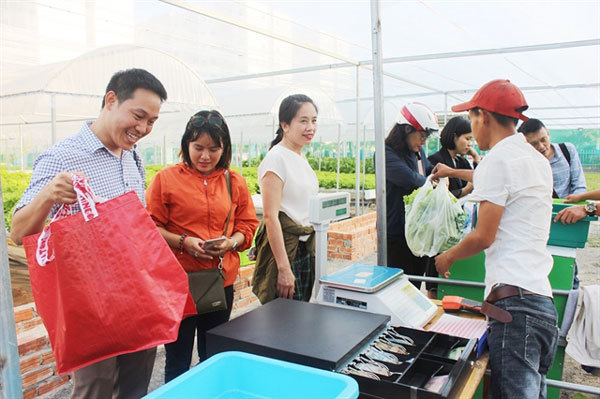 Customers buy safe vegetables at Việt Phú Farm in Son Tra District. — VNS Photo Tran Lan Anh
 
Da Nang has called for investment in safe farm produce and offered total financial support of VND5 billion ($217,000) per project.
Da Nang consumes 60,000 tonnes of vegetable each year, but the city's farms can only supply 10,000 tonnes. Safe farms provide only 5 per cent of the city's demand.
A total 84.6ha of safe farm zones have been planned, but only 13.7ha has won VietGAP certification for safe food production.
Binh, the investor of Việt Phú Farm, said the city will support the farm by offering leases lasting 25 years for farmland.
He said strawberries would be exported to Japan if the farm develops on a mass strawberry growing zone, while France grape farm would provide materials for Bordeaux vine production in Vietnam. — VNS
Cong Thanh

Vietnam needs to develop a system of modern agricultural product supply centres which can help to promote the consumption of farm produce in value chains, enhance food safety and hygiene, and improve the competitive edge of Vietnamese goods.  
A loudspeaker and audio device shop has arisen on Luong Dinh Cua intersection, taking the place of a food shop which shut down just several months after opening.
Food consumption trends in the domestic market, identification of nutritious and safe food, and improved understanding of chilled and frozen foods were among the topics discussed at a seminar held yesterday.