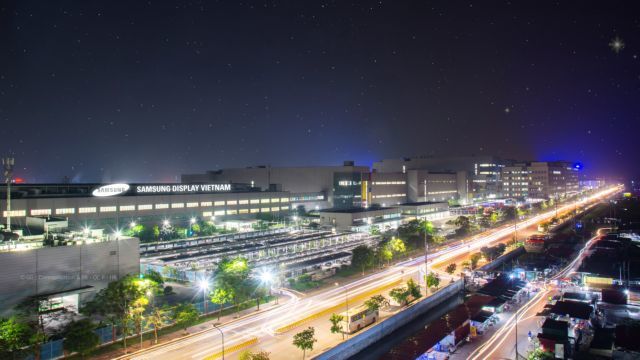 Samsung Display Việt Nam's factory in the northern province of Bắc Ninh. — Photo courtesy of the company
The plan was devised by the provincial health department in co-ordination with provincial police to control the COVID-19 pandemic, given the large number of positive cases reported in South Korea.
The South Korean engineers will return to Bắc Ninh Province in three stages, at least 14 days apart.
After arriving at Vân Đồn Airport in the northern province of Quảng Ninh, the engineers will fill in a medical declaration based on Vietnamese Government regulations. They will also be given medical examinations and protective clothing before being taken by sterilised vehicles to the J&C Hotel in Bắc Ninh's Yên Phong District.
The hotel was being used as a public quarantine zone, according to the provincial health department.
After staying under quarantine at the hotel for four days, the engineers will be tested for the first time by the National Institute of Hygiene and Epidemiology.
Those test negative for the disease will be allowed to go the Samsung Display Việt Nam Co Ltd to work from the fifth day. Medical workers and police will keep a close watch on their movements.
Their offices and workshops will also be arranged at isolated quarters to ensure they have no contact with other people.
In addition, every day, the engineers and staff at the hotel will have their body temperatures checked twice.
Their automobiles and hotel rooms will be sterilised every day following Vietnamese health ministry's guidelines.
They will have second test after 14 days, right before their quarantine period ends.
Earlier, Samsung Company asked Việt Nam to exempt the 700 engineers from compulsory concentrated quarantine – that was mandated to all arrivals from South Korea to Việt Nam – if they could provide sufficient medical declarations that they are not virus carriers.
The move was meant to prevent delays to production schedule of the company. — VNS

Samsung's plea to exempt 700 South Korean engineers from the mandatory quarantine would cause numerous hiccups in the containment of the epidemic.

Samsung Electronics Co. on March 6 said it will temporarily move some of its smartphone production to Vietnam, after shutting down a local factory following a positive coronavirus test there, according to Yonhap.