Under Resolution No.10/NQ-CP released over a week ago at a meeting with localities nationwide, the government ordered that all efforts be made to amplify domestic consumption and production, as well as to woo more foreign direct investment (FDI), which are all considered key government's priorities in hitting new national growth goals.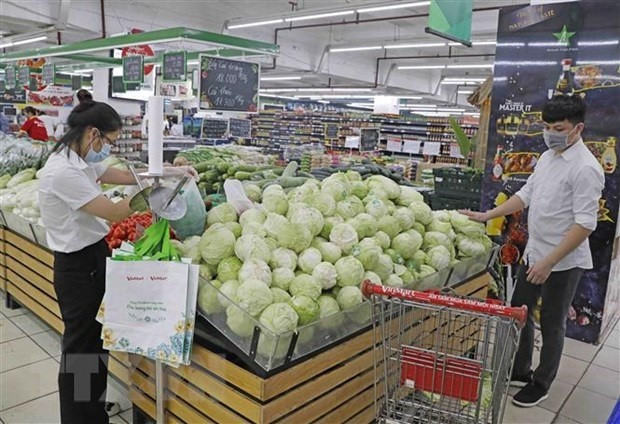 Consumers shop at a supermarket. (Photo: VNA)
The government has set a target for the economy to grow 5.6 per cent in Q1, 6.7 per cent in Q2, 6.5 per cent in Q3, and 7.1 per cent in Q4. The rate for the year will be 6.5 per cent.
"All regulations must be regularly reviewed to remove difficulties for enterprises and individuals and boost all business activities," Resolution 10 states.
The government has also ordered the continuation of administrative reform closely linked with improving the domestic investment and business climate.
It has advanced a GDP growth scenario in 2023, under which the service sector will increase 6.6 per cent for the whole year, which is lower than the 8.12 per cent recorded last year.
According to the General Statistics Office (GSO), total goods retail and service consumption revenues in January, when the Lunar New Year break took place, are estimated to reach $23.68 billion, up 5.2 per cent on-month and 20 per cent on-year. If inflation is not considered, the on-year rate will be 15.8 per cent, while that of the corresponding period last year decreased 4 per cent.
The revenue of goods retail in January is estimated to hit $18.93 billion, up 18.1 per cent on-year; in which garments increased 27 per cent, home appliances 23.8 per cent, food and foodstuffs 17.9 per cent, vehicles 14.8 per cent, and cultural and education items 7.2 per cent.
Meanwhile, revenue from catering services is estimated to fetch $2.43 billion, up 37.3 per cent. What is more, revenue from tourism-related activities is estimated to sit at $95.65 million, which is up 113.4 per cent on-year. Revenue from other types of services is estimated to sit at $2.22 billion, representing 16.8 per cent of annual growth.
In 2022, the Vietnamese economy's total goods retail and consumption service revenues hit almost $247 billion, up 19.8 per cent on year, and 15 per cent as compared to that in 2019. If inflation was excluded, the rate would have been 15.6 per cent. In 2021, the rate fell to 6.7 per cent.
Under the government's scenario, it is expected that the industry and construction will 7.6 per cent this year, far higher than the 4.22 per cent recorded last year.
According to the GSO, in January, the economy's index of industrial production (IIP) reduced 14.6 per cent on-month, and 8 per cent on-year. With the government's pro-business policies, the IIP is expected to bounce back strongly in the coming months, with the government expecting the rate to be 7.7 per cent for the entire year.
Last year, the IIP was estimated to rise at a relatively high level of 7.8 per cent. The country's added value of industrial production expanded 7.69 per cent for the whole of 2022, up from 4.82 per cent in 2021. The manufacturing and processing sector climbed 8.1 per cent over the corresponding period of 2021. Electricity production and distribution increased 7.05 per cent on-year, higher than the expansion of 5.24 per cent in 2021.
In a GSO survey regarding manufacturing and processing enterprises at the end of last year, 31.4 per cent of respondents said their production volume would climb in Q1 of 2023. The rate of those which project that their production would stabilise was 38.5 per cent.
When it comes to orders, 30 and 30.6 per cent of respondents hope that their orders will rise and stabilise, respectively, in the first quarter. As for export orders, 42.7 per cent of respondents predict that their export orders will stabilise in Q1, and 24 per cent predict orders will climb.
"Consumer confidence has gradually recovered," said Minister of Planning and Investment Nguyen Chi Dung. "Many businesses have founded it difficult to boost exports due to a reduction in global demand, but they have turned to the domestic market."
Andrew Jeffries, Asian Development Bank country director for Vietnam, told VIR that there are many reasons for optimism about the country's economic prospects in 2023.
"In Vietnam, economic activities recovered faster than expected last year," Jeffries said. "Despite a fairly volatile stock market last year, FDI has been strong and has even picked up. There is no doubt that Vietnam's economic prospects for the medium and long term remain on a positive trajectory."
According to the Ministry of Planning and Investment (MPI), Vietnam is expected to lure in as much as $36-38 billion of newly registered and newly added FDI, as well as funding from capital contributions and stake acquisitions. This is up strongly from nearly $27.72 billion last year.
The MPI's Foreign Investment Agency expects that disbursement in 2023 will likely reach around $22-23 billion, almost the same as last year, which was up 13.5 per cent on-year.
Source: VIR