Schools lack psychological counsellors for students
Currently, most schools do not have staff specialised in psychological counselling for students.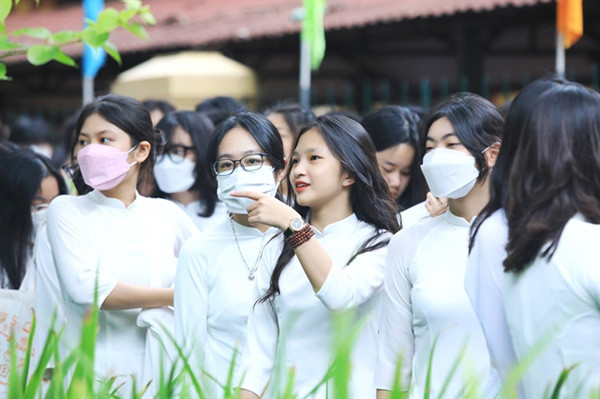 Schools nationwide face a lack of psychological counsellors for students.
Currently, most schools do not have staff specialised in psychological counselling for students but have to arrange home-room teachers, medical staff and even youth-union officers to do this work.
The staff have only been trained on short-term courses for psychological counselling, lacking in-depth knowledge, so the effectiveness of the counselling is not as high as expected.
Nguyen Thi Quy, a teacher of citizenship education at Ethnic Minority Boarding High School in the northern mountainous province of Dien Bien, told Quân đội Nhân dân (People's Army) newspaper that she does this work but she has not been properly trained.
"I face certain difficulties in the process of counselling for students because I have no professional skills in psychological counselling," she said.
She has to find and read many documents to serve her work, she said.
Le Thi Thao, principal of Cat Lai Secondary School, HCM City's Thu Duc City, said that a member of staff in charge of the school's Ho Chi Minh Young Pioneer Organisation, was assigned as a psychological counsellor for students at the school.
Although the school has set up a counselling room, students rarely attend, she said.
The work of psychological counselling for students shows little effectiveness because the counsellors have not undergone proper training, she said.
Nguyen Hong Duc, principal of Nguyen Trai Secondary School in HCM City's Go Vap District said it is hard to recruit a qualified psychological counsellor due to the pressure of work while the salary is not high enough.
Students need counselling
According to a survey conducted in 2022 by the Ministry of Education and Training at a number of high schools and universities in Hanoi and Hai Duong Province, 93.6 per cent of students say they faced difficulties in learning and life that needed to be shared.
Associate Professor Tran Thanh Nam, dean of the Faculty of Educational Sciences, under the University of Education (Vietnam National University, Hanoi), said in the 2022-23 school year, students across the country return to school after a long time learning online due to the COVID-19 pandemic.
Nam said the World Health Organisation predicts that the rate of students suffering from anxiety and depression will increase by three to five times.
Studying online at home for a long time, many students use electronic devices for up to 10 hours a day, so when they return to school, they might feel lost and disconnected.
Solutions
Ngo Thi Minh, Deputy Minister of Education and Training, said in the 2015-22 period, the ministry issued a number of documents related to psychological counselling for students.
Every year, the ministry also guides the departments of Education and Training in localities to perform social work and psychological counselling for students, she said.
In an attempt to fix the situation, the ministry has actively coordinated with relevant ministries, sectors and international organisations to conduct training seminars, build psychological counselling models for students and develop communication publications related to psychological counselling for students, she said.
Late last year, the ministry sent a document to the People's Committees of provinces and cities nationwide on strengthening the implementation of psychological support for high school students, she said.
In the future, the ministry will enhance dissemination and raise awareness among teachers, parents and students about the role of counselling and social work in schools.
It will also set up more training courses to improve the professional capacity of staff and teachers in educational institutions, she said.
Source: Vietnam News