Schools ponder ban on entrance exams
The Ministry of Education and Training has published a new draft circular on secondary and high school recruitment. One significant change is to allow secondary schools with applications exceeding enrolment quotas
VietNamNet Bridge – The Ministry of Education and Training has published a new draft circular on secondary and high school recruitment. One significant change is to allow secondary schools with applications exceeding enrolment quotas to either review them and add an entrance exam. The draft will be open for discussion until February 18.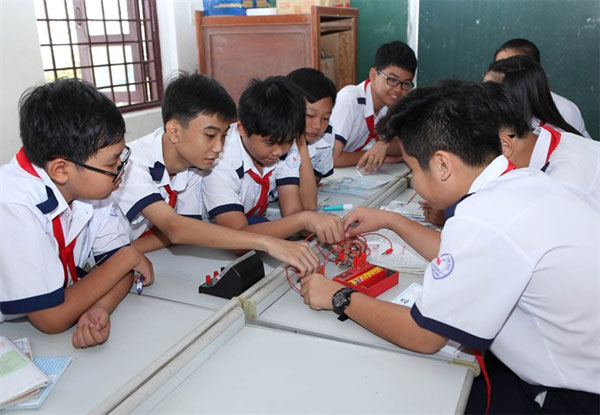 Six graders at Vo Thi Sau Secondary School in Bac Lieu Province during a physics class. — VNA/VNS Photo Quy Trung
The current circular, which took effect in 2014, bans secondary schools from holding entrance exams.
According to the circular, schools which have applications exceeding enrolment quotas must submit a recruitment plan to authorised agencies seeking approval.
The regulation puts top schools in a difficult situation because registration numbers always far exceed enrolment quotas.
Ha Noi-Amsterdam secondary school received more than 2,000 applications for school year 2017-18, while the enrolment quota was only 200.
Luong The Vinh secondary school in Hanoi received more than 4,000 applications while the enrolment quota was only 600. Cau Giay secondary school recruited only 280 students, but applications reached about 600.
Criteria for recruitment are scores in the academic record, certificates and awards for contests organised by local departments of education and training. However, the ministry also ordered a reduction in competitions to limit numbers.
The proposed draft circular has been welcomed by parents and teachers.
Le Kim Anh, principal of Cau Giay secondary school, is totally in favour of the change.
She said the current circular had showed the weaknesses of the present systerm. Under the new regulation, schools will assess student capacity through a combined test of math, Vietnamese, IT, history, science and geography.
She said that if the proposal was approved, top schools would have a larger number of applications. In previous years, the sub-criteria were certificates and awards so only qualified students applied. This year, many more students want to take the test if entrance exams are held.
Pham Trung Dung, principal of Luong The Vinh secondary and high school in Hanoi, said that interviews, written or multiple-choice tests would be held by the school to test students' knowledge.
He said he hoped that the new regulation would create conditions for schools to select qualified students in an accurate and equal manner.
However, a principal at a secondary school in District 11 in HCM City told Giao Duc Viet Nam (Vietnamese Education) online newspaper that the proposal was not feasible and should be applied only at schools for gifted students.
VNS