HCM City has urged private garbage collectors to replace unsafe and unsanitary vehicles by the end of October.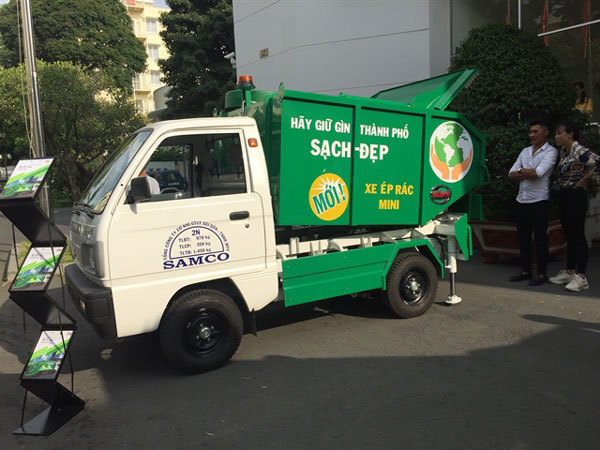 A mini garbage truck is shown at a conference on Wednesday in HCM City. The truck's garbage tailgate cover is operated by a hydraulic device. — VNS Photo Ngoc Diep
Rapid urbanisation and a rising population have led to mounting waste, with 9,000 tonnes of domestic waste produced every day, and the volume increasing by 5-6 per cent per annum in recent years.
About 4,000 garbage collectors are operating more than a total of 2,160 garbage collection and transport vehicles in the city, according to Tran Van Thach, deputy director of the city's Department of Natural Resources and Environment.
"Private garbage collectors play a key role in collecting and classifying household solid waste at source," he said.
Thach spoke at a conference on Wednesday held by the city's People's Committee and Department of Natural Resources and Environment to review the classification of household solid waste at source and the replacement of private garbage collectors' vehicles.
Private garbage collectors, who mostly work in narrow alleys, account for 60 per cent of the city's waste-collecting units.
The remaining 40 per cent of garbage in the city is collected by public-service companies, mainly on streets and in public areas.
"Private collectors use mainly tricycles, motorised pedicabs and homemade vehicles that do not meet environmental safety and traffic safety standards," Thạch said.
An official dispatch from the People's Committee issued in October last year recommended that collectors use eco-friendly garbage collection vehicles.
It also said that 600-litre plastic or composite rubbish bins should be used, and that garbage trucks and electric cars for rubbish collection (which are expected to be in use in the future) should install a closed cover and leachate collection system with a 350-kilo to 5-tonne capacity.
Le Trung Tuan Anh, head of the department's Solid Waste Management Division, said the city had created favourable conditions for private garbage collectors to spend the lowest amount of money to replace their current vehicles.
The department is working with enterprises such as SAMCO and Hiep Hoa Group to offer affordable prices for new vehicles.
"Private garbage collectors should establish co-operatives or companies, or become members of public service companies in their respective districts to ensure their rights and benefits," Anh said.
Each member of a co-operative can access unsecured loans from the city's Capital Aid Fund for Cooperative Members (CCM) up to VND40 million (US$1,700) for the first time and up to VND60 million ($2,600) for the second time, at an interest rate of 0.7 per cent per month for two years.
They can borrow up to 70 per cent of a vehicle's value at an interest rate of 4.27 per cent per year, for seven years, from the city's Environment Protection Fund.
District people's committees will consider a new waste collection fee, based on prices recommended for waste collection and transportation in a decision issued last October by the People's Committee.
Vo Van Hung, chairman of the Binh Chanh Environment Service Co-operative, said his co-operative supported the replacement of current vehicles but more time was needed.
Currently, the co-operative has 153 vehicles for collecting and transporting waste. To replace all of the vehicles, up to a total of VND60 billion ($2.6 million), would be needed.
Meanwhile, the fee for collecting waste is low for sanitation workers, who do not have enough income to borrow loans.
"Many residents do not sort their household waste as required, and do not pay waste collection fees, which causes difficulties for garbage collectors," Hung said.
The companies that provide garbage-collection vehicles should conduct more research and design a vehicle that can easily classify solid waste and that can be used in both urban and suburban areas.
Anh said that private garbage collectors should support the city's policy to replace unsafe and unsanitary vehicles.
"The replacement of these vehicles could improve relationships among small private units that collect, transport and treat waste, and improve private collectors' quality of work," he said.
The city will consider imposing administrative sanctions on violators of waste classification, Anh said.
In addition, waste collection fees will be collected by districts, not by individuals, to protect private collectors' incomes and to ensure that bidding for rubbish collection and transportation services are done properly.
The city plans to require all private garbage collectors to join cooperatives or enterprises with legal status by 2020.
By 2021, bidding for all rubbish collection and transportation services will be periodically held, while vehicles and equipment for garbage collection and transportation will ensure the quality of garbage classified at source.
The city will also develop policies to support the collection and transportation of household solid waste.
The department on Wednesday also held a meeting with districts' public-service companies to review the pre-treatment garbage classification at source programme, which has been piloted since 2015 in some districts and continues to face shortcomings. The department received feedback from agencies on the problems and will try to come up with solutions.
By 2020, the pre-treatment garbage classification programme is expected to be carried out throughout the city.
VNS