Google has recently officially added Vietnamese to the list of languages receiving support from Google Assistant.
The press conference announcing the launch of Google Assistant in Vietnamese took place on May 6, but many Android users said they began using the tool on May 1.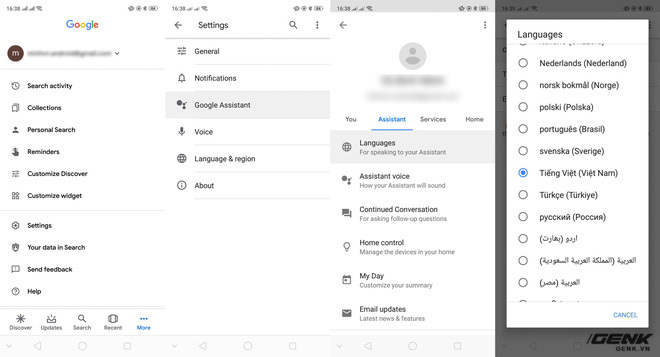 To be able to activate Google Assistant in Vietnamese, users need to go to Google apps> Add> Settings> Google Assistant> Assistant> Languages and choose "Tieng Viet (Viet Nam)". After that, they just need to hold the Home key to call Google Assistant and say the commands.
However, many others said they could not find option 'Tieng Viet' (Viet Nam) in 'Languages' menu. Experts said it is understandable, since Google still has not supported Assistant Tieng Viet in a large scale.
The major work that assistants have to do, such as reminders, alarms, timers, weather forecasts and directions, can be undertaken by Google Assistant.
After trying different ways (changing systematic languages, areas, restarting and updating apps), the team of engineers from GenK came to the conclusion that whether users can activate Assistant Tieng Viet doesn't depend on users' operation.
"If your accounts are luckily chosen by Google, you will find it very simple to activate Assistant Tieng Viet. If not, you will not be able to do this no matter what," GenK reported.
As for iOS users, they will need an US Apple ID to be able to download Google Assistant from App Store. After that, they need to log in Google accounts and carry out the same operations.
Google Assistant can do many works for users. It can make calls and send messages with hands free. The feature is very useful, especially for those who drive cars.
The major work that assistants have to do, such as reminders, alarms, timers, weather forecasts and directions, can be undertaken by Google Assistant.
With the advantage in searching, Google Assistant can give answers to questions about many different aspects in life. The knowledge of Google Assistant is synthesized from many different sources, including Wikipedia and search results.
Users can order Google Assistant to play music on Spotify. In fact, Google Assistant also supports music play on Google Play Music as well, but the service is not available in Vietnam. You can request Google Assistant to recognize songs though are listening to in surrounding environment.
Google Assistant can also do translations with voice. Instead of running Google Translate, one can use Google Assistant to translate some simple words and sentences and get results more quickly.
The team from GenK commented that Google Assistant's ability to recognize Vietnamese language is very good. It can correctly understand voices with northern, central and southern accents, and the voices of women and men.

Thai Son Development and Investment JSC, a business under the Defense Ministry, was found to have falsified bank statements to win construction contracts and BOT transport projects before transferring them to other contractors.  
Chatbot Vietnam JSC has won an award for a technology solution in the "E-business" category at the UN's World Summit on the Information Society (WSIS) held in the Switzerland.  
Mai Thanh