Authorities in the U Minh Thuong area in Kien Giang Province are trying to bring back a famous endemic freshwater fish, cá đồng.
Discover your inner child at U Minh National Park
Kien Giang brings seawater ashore for shrimp farming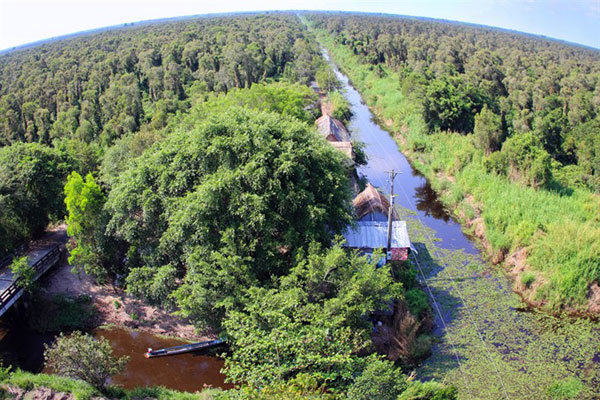 Natural surroundings: Waterway in U Minh Ha.— (Illustrative image-VNA/VNS Photo)
The genus includes species like snakehead fish, bighead catfish, anabas, gourami, tank goby, featherfin fish and others, most of which live in rice fields and ponds but are now seeing their populations dwindling.
In U Minh Thuong, which comprises An Bien, An Minh, Vinh Thuan and U Minh Thuong districts, their numbers have been falling in recent years because of several reasons like saltwater intrusion, the development of other hybrid species and habitat loss.
Many rice fields in the area have seen farmers switch to shrimp, thus crowding out cá đồng.
Local authorities have been making efforts to revive their populations by breeding them in captivity and instructing farmers in farming them.
Nguyen Quoc Khoi, deputy chairman of the U Minh Thuong District said the local People's Committee has sought the Department of Science and Technology's help to artificially reproduce bighead catfish fry.
The province Farmers Association's Support Fund has provided VND500 million (US$21,500) to the district for breeding local freshwater fish species, he said.
The district has established co-operative groups for breeding them.
Each household member of the co-operative groups is allocated 1ha of pond for the purpose.
The district has more than 4,450ha of ponds devoted to breeding the fishes. The fishes are bred using extensive farming methods in rice fields and ponds, including shrimp ponds. The average yield is 368 kilogrammes per hectare per year.
Of the 4,450ha, the area meant for farming cá đồng is small, according to the U Minh Thuong People's Committee.
Most farmers breed the fishes on a small scale and in a scattered manner.
The number of establishments supplying cá đồng fry remains low and they cannot fully meet local farmers' demands.
The People's Committee has instructed competent agencies to farm fry of snakehead fish, anabas and gourami to supply to local farmers.
The district plans to create a collective brand name and geographical indication for cá đồng U Minh Thượng once their populations recover.
These will help local farmers find steady markets for the fishes and attract more people to the vocation, according to the People's Committee.
Cá đồng are used to make many traditional dishes, including fermented fish.
U Minh Thuong's fermented fish is well- known around the Mekong Delta.
VNS