Hanoi is building a garbage-to-energy incinerator with a capacity of handling 4,000 tons of waste per day, which is expected to be put into operation by 2021.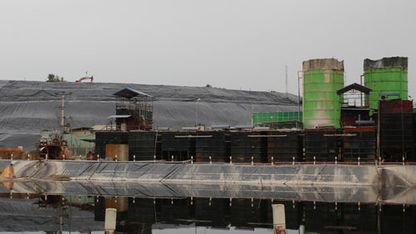 Waste water treatment area in Nam Son landfill (Soc Son district, Hanoi).
Hanoi Urban Environment Company (Urenco), which is operating two landfills of Nam Son and Xuan Son in Hanoi has proposed applying Taiwan's green technology to increase the two landfills' capacity.
Accordingly, Urenco will build a 20m-tall wall around the landfill to increase its capacity. Plants will be grown on the wall to prevent odors from spreading. Inside, the floor will be covered by five layer of waterproof fabric instead of one to effectively avoid leakage of wastewater.
 Urenco's General Director Nguyen Huu Tien said that dumping sites in Hanoi swallow about 8ha of land each year. Nam Son landfill receives 5,000 tons of waste per day while Xuan Son landfill receives 1,200 tons per day.
With this capacity, both landfills will run out of capacity by 2020. The new technology would not enlarge the landfill to double its capacity, thus saving the land clearance cost, Tien added.
"Building walls with green trees will prevent odors from spreading out. Especially, after closing the landfill, we can grow trees, turn it into a park, like in Taiwan and some other countries," Tien said.
He noted that Hanoi is building a garbage-to-energy incinerator with a capacity of handling 4,000 tons of waste per day in Nam Son, Soc Son district, which is expected to be put into operation by 2021.
However, the new factory's capacity can treat 80% of the garbage brought to the dumping site, 20% of the remaining has to be be buried. In the short term, Taiwan's green technology will help extend the dumping site service life by about five years.
The new technology needs an investment of VND1,640 billion (US$70.52 million), of which US$51.17 million for Nam Son landfill and US$19.35 million for Xuan Son landfill.
Urenco and its partners will finance 100% of the cost and Hanoi's authority will pay a fee for each ton of garbage treated.
However, former Deputy Minister of Planning and Investment Nguyen Ngoc Dong said that this is not a new technology.
Many countries like the US, Russia and Japan are also applying. Some Korean companies have striven to introduce this technology in Vietnam.
"Burial is only suitable for places with a large land reserve. For Hanoi, this is not a long-term solution because of its high population density and little land reserve," Dong said.
He stressed that in order to treat domestic waste, in the long run, garbage needs to be classified at the source.
After that, it is possible to apply more environmentally-friendly waste treatment such as garbage-to-power.
The organic garbage will be used to produce electricity, make fertilizer, and the remaining inert substance will be burned. Hanoitimes
Anh Kiet

It is worth pondering the dissolution of To Lich water with the Red river's water because the To Lich river is facing the risk of becoming a dead river when it received little amount of water in the dry season.  

Vietnam`s population growth and rapid economic development drive up its people`s demand for water, which puts water resource at risk of being depleted, posing a big threat to sustainable development.  
HCM City has called on residents to stop using underground water and seal the wells due to serious subsidence in the city.