Vietnam expects to have some 1,000 houses integrated with sustainable energy solutions by the end of this year under an initiative by the Vietnam Coalition for Climate Action (VCCA).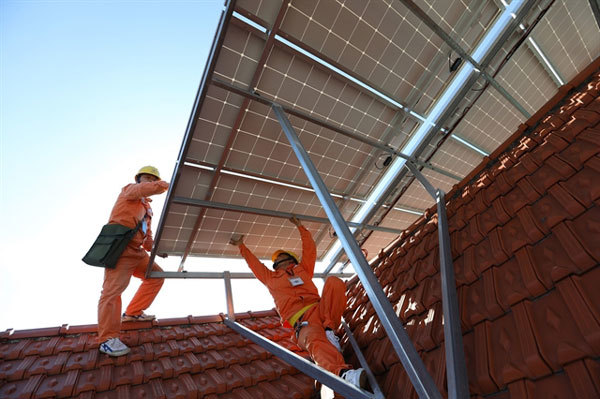 EVN workers set up solar panels at a household in Hanoi's Me Linh District. — VNA/VNS Photo Ngoc Ha
Entitled 'Millions of green houses', the project was launched by the VCCA and local NGO GreenID in September 2019, aiming to accelerate efficient energy use and the development of rooftop photovoltaic power stations in 1 million houses and buildings in Vietnam by 2030.
GreenID director Nguy Thi Khanh, on Monday, said after the piloting period, until February, more than 430 households in Dak Lak and Ca Mau provinces had set up rooftop solar panels, solar water heater, biogas and energy-saving LED lights.
A reverse osmosis water purifying system using solar energy was built at a school in Dak Lak to provide drinking water for about 500 students.
The project expects to benefit people living in isolated areas who have limited access to the national power grid in approaching sustainable energy, effectively treating agricultural waste and protecting the environment.
Participating households in Hanoi can both reduce energy expenses and sell electricity to Vietnam Electricity.
"Our mission is to promote win-win co-operation among stakeholders including customers, providers, researchers and authorities to reduce costs and come up with more green solutions. In 2020, the project will expand to central provinces," said Khanh.
Tran Huong Thao, a representative of SolarBK – a solar energy solution provider, said they had helped more than 90 households in Hanoi set up rooftop solar panels under the support of GreenID.
Each of them also receives maximum monthly assistance of VND9 million.
"We hope to better raise awareness of Hanoi's residents about the project and develop a wide range of products to best suit people's demands," said Thao.
The company has worked with banks to offer microfinance packages for participating households.
Vu Dai Thang, a participant in Hanoi, said all the registration procedures were simple as they could access the project's official website at trieungoinhaxanh.com.vn for information and membership inquiries. — VNS

The Politburo will encourage all economic sectors, especially private businesses, to invest in energy projects, Party General Secretary, President Nguyen Phu Trong has said.

After rushing to connect to the national grid prior to end-June to benefit from price policies, solar power developers have now found that the grid can't handle the extra capacity.

Renewable energy has emerged as one of the most preferred sectors for investment in Vietnam, coming third behind fintech and education.