People passing Truong Chinh Street in Hanoi every day are used to a pile of trash in front of Alley 554 blocking traffic on one of the city's most congested roads.
Solid waste treatment facilities to be examined
Solid waste treatment remains questionable
National standards on waste treatment technology needed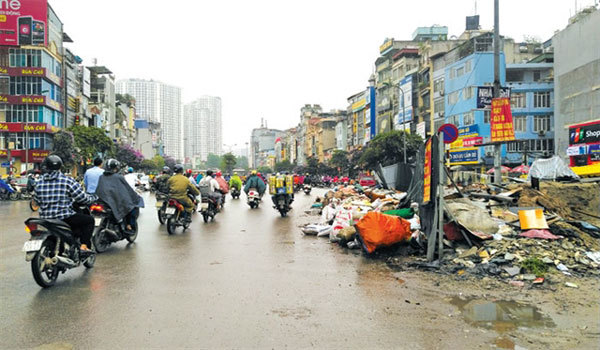 A pile of rubbish on Truong Chinh Street in Hanoi blocks traffic. — Photo kinhtedothi.vn
The trash is dumped by local households and scrap from nearby construction sites.
This example is just a drop in the ocean compared to the 6,500 tonnes of solid waste dumped in Hanoi each day.
Dumping domestic waste on the streets is a common problem here.
Instead of keeping garbage at home and waiting for waste trucks to pick it up, many people throw their trash in public areas near their houses, polluting the environment.
According to the Viet Nam Environment Administration, about 25.5 million tonnes of domestic solid waste nationwide was discharged every year.
Urban citizens dump about 38,000 tonnes of solid waste per day while people in rural areas throw 32,000 tonnes away.
This huge amount of untreated solid waste had challenged major urban areas nationwide due to a lack of investment in rubbish dumps, environmental experts pointed out at a workshop on solid waste management this week held by the Ministry of Natural Resources and Environment (MONRE).
Hoang Van Thuc, deputy head of the Viet Nam Environment Administration, told Vietnam Television there were 50 solid waste treatment factories nationwide, and most of the remaining waste was buried.
Among the big piles of trash dumped every day in big cities, about 85.5 per cent of waste was collected. The number in rural areas is only 40-55 per cent, he said.
In many rural areas, dumps were located far from residential areas, and rubbish trucks found it difficult to reach remote mountainous areas, Thuc said.
Although burning waste in small incinerators has been warned against by MONRE, it is still common in many rural and mountainous areas.
In Van Ban District in northern mountainous province of Lao Cai, local residents spend their own money on incinerators to treat their daily waste.
There are more than 1,000 small incinerators in the district. However, there are no emission treatment systems.
Hoang Thi Men, a local in Hoa Mac Commune, told Vietnam Television that burning waste caused an unpleasant smell but residents did not know how to deal with it.
Other localities like Ha Tinh, Quang Ngai and Vinh Phuc have waste treatment factories but the situation does not look much better.
Local residents from Ky Tan Commune in Ha Tinh Province have been complaining that since the local waste treatment factory was put into operation, flies and mosquitoes had swarmed the area.
Thức from the Viet Nam Environment Administration said the problem was not waste treatment technology because the most advanced technologies had already been introduced in Vietnam. What needed to be put in place were facilities suitable for local conditions.
Waste treatment budgets were allocated from provincial budgets. Many poor localities lacked the funds to invest in advanced technologies, he said.
At the workshop, MONRE deputy minister Vo Tuan Nhan said Vietnam should prioritise selecting domestic solid waste treatment technologies in relevance to each locality, for example, garbage sorting, organic fertiliser composting and incinerators.
Dong Phuoc An, deputy director of Hanoi's Construction Department, said the city would call for investment in waste-to-energy factories. By doing so, garbage sorting would be encouraged.
Le Trung Tuan Anh, head of the solid waste management division under HCM City's Department of Natural Resources and Environment, said the city's authorities were thinking about building more dumps and installing underground facilities.
VNS