The machines that sell mobile phones or collect used phones, and the apps that connect scrap sellers and buyers are useful solutions at a time when "living green" and "going digital" have become more common.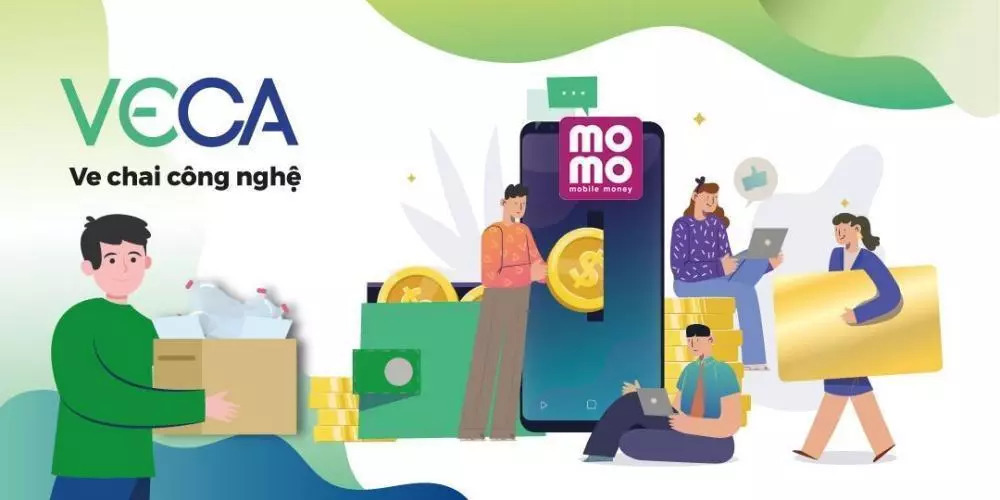 VECA has two versions for scrap sellers and scrap buyers
Ngan left her home village, a difficult area with low average income per capita, for HCM City some years ago. In the large city, she earns her living by collecting scraps (chicken and duck feathers, broken sandals and used items) for sale.
Ngan and two acquaintances live in the same rented room. They ride bicycles on alleys and side streets every day, crying out to people about their wares.
Ngan has to work every day, including sunny and stormy days. Sometimes they cry themselves hoarse, but cannot collect anything.
"If we don't work hard, we won't have money to feed our children," she said.
In an effort to connect scrap collectors and dealers, Do Trang and Bui Bao have invented an app, VECA, which can solve their problem.
The idea of a scrap collecting ATM was based on a machine in South Korea which sells phones automatically.
VECA was created after one year of research and design. It was one of 15 startups chosen to enter the NINJA Accelerator Program in HCM City early this year.
Instead of riding to every corner of the city and yelling to passersby about their wares, scrap collectors now can find sellers via affordable smartphones thanks to VECA.
VECA has two versions for scrap sellers and scrap buyers.
With the version for collectors, they find the positions of sellers located in the same areas and collect information in a transparent and easy way.
The prices of the scraps are publicized, which helps collectors make decisions more easily. Sellers can take the initiative in arranging their time by setting time on the app, or scheduling specific appointments with collectors.
VECA, which has been operational for 10 days, has 6,000 installations, and the figure is increasing rapidly.
The app is being implemented on a trial basis in Phu Nhuan district, HCM City, and will be available in other districts as well.
The inventors of the app hope they can build VECA into an ecosystem specializing in recyclable product trading, thus benefiting the involved parties and promoting waste classification.
About 50,000 tons of waste are discharged every day in Vietnam, including 35,000 tons in cities. The figure is 7,000-8,000 tons in Hanoi and HCM City. Over 80 percent of waste is buried. Waste classification at source is one of a number of burning issues that need urgent solutions. 
Diep Luu

Hoang Tuan Anh, the creator of the 'rice ATM' which dispensed rice to the poor to help them survive the Covid-19 pandemic, is one of the 14 people nominated by VietNamNet as Inspiring Characters.

Tran Viet Lan, whose parents own a motorbike repair shop in Phu Yen province, has has won many provincial and national prizes for his inventions since he was an eighth grader.