Professor Truong Quang Hoc from Vietnam National University's Centre for Natural Resources and Environment Studies spoke about the impacts that Vietnam will possibly have in case of biodiversity decline.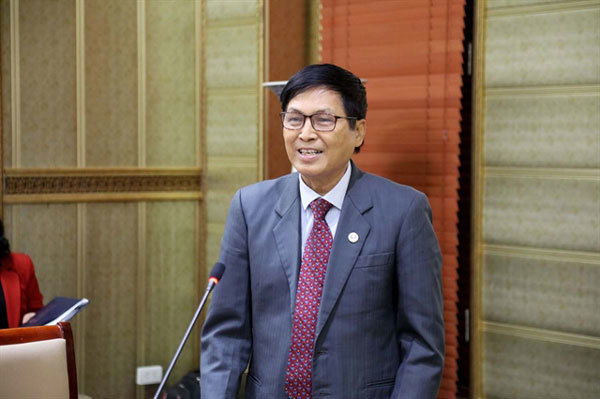 Professor Truong Quang Hoc. Photo vnu.edu.vn
How do you assess the global decline in biodiversity?
As far as I've remember, former UN Secretary General Ban Ki-moon emphasised the importance of giving priority to considering biodiversity issues when making decisions in all sectors. Biodiversity must be the basis for establishing other goals, not an idea that comes up after other goals have been set up.
I think we need a new vision of biodiversity conservation to maintain a healthy planet and a sustainable future for humanity.
In 1993, the United Nations chose May 22 as an international day for biodiversity to raise public awareness on this issue. Biodiversity since then has been considered an essential source of providing ecological services and a source of human life.
In recent decades, the concept of non-traditional security has emerged, including the issue of biodiversity decline - a depleted ecological environment. If the ecosystem is like a car, then every animal and plant species act as a part of that car. Lack of any species can threaten the safety when the vehicle operates.
So, the relationship between humans and other plant species must be a symbiotic relationship in order to sustain life and maintain the sustainable development. For a long time, people have underestimated the role of biodiversity. It's high time the world has to look back and put this issue in parallel with the importance of climate change.
Vietnam is considered one of the Southeast Asian countries rich in biodiversity and ranked 16th with the greatest biodiversity in the world. Could you tell us about the biodiversity fluctuations in recent years?
Ecosystems and biological resources play an important role in the country's economy and culture. Biotechnology contributes greatly to the national economy, which ensures food security, maintaining genetic resources of animals and plants, providing construction materials and sources of fuel and pharmaceuticals.
Population growth and consumption pressures have resulted in overexploitation of biological resources. The rapid socio-economic development has changed the natural landscape. Changes of land use practices and construction of many infrastructures have reduced the area of natural habitats, fragmented ecosystems, and reduced the habitat of many wildlife species. The construction of many dams has blocked the migration routes of many fish species.
The rapid increase in forestation is a good sign, but it should be noted that half of the increase in forest area is planted and restored forests, so the value of biodiversity is not high. Meanwhile, the natural forest continues to be destroyed.
Forest fires, deforestation, and forest land use conversion are three elements that reduced the biodiversity. Natural forests are increasingly being destroyed. The data shows 156 forest fires have occurred in the first six months of this year, and nearly 38,300 hectares of forest has been converted for use in the period of 2012-17.
Noticeably, 89 per cent of natural forest area was damaged during the forest land use conversion process and 11 per cent was illegally chopped down. All of the areas of the national parks and conservation parks in the country occupied only 7.5 per cent of total mainland.
Do you think that the sense of excessive material enjoyment is among the causes of the biodiversity decline?
I want to talk about Bhutan. It is a small country and it is not a developed one, but people are still happy and enjoy life because they know how to live with nature. They have the awareness that people should be part of the nature.
Could you share the scenario of biodiversity loss in the future?
At a recent international conference on non-traditional security issues, I mentioned the scenario of biodiversity loss. Over the past 300 years, the forest on earth has decreased by 40 per cent.
Rainforests account for only 7 per cent of the area but own 70 per cent of the global biodiversity value. However, the forests have lost 80 per cent of their total area and continue to lose 0.7 per cent annually.
People have used up to three quaters of the earth's resources. When the life-support system is degraded and depleted, how can people survive?
It will be extremely difficult to recover what we have lost. Many scientists have warned that humans will only survive until the end of this century. It might sound awful, but it would be true if people don't change their behaviour and attitudes towards the nature. — VNS

Keeping the Con Dao National Park clean and conserving biodiversity is the top priority for its management board.  

Cu Lao Cham Island in the central city of Quang Nam has become overcrowded with tourists, further threatening its natural resources.