Last month, the Mekong River Commission announced the commencement of Prior Consultation for Luang Prabang, the fifth lower Mekong mainstream dam to undergo the process.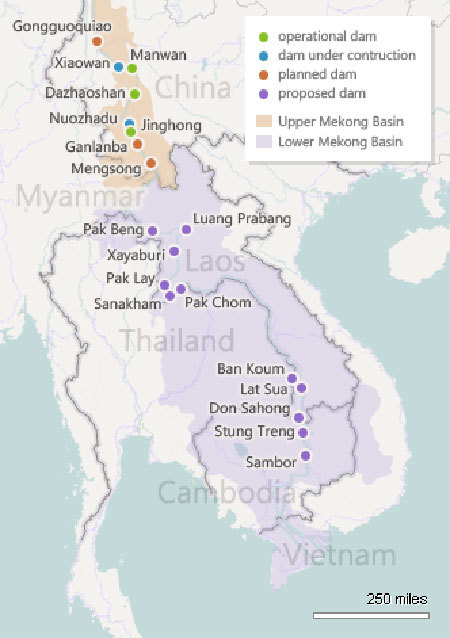 The Mekong River has too many dams. — Photo Mekong River Commission
Earlier the same month, Xayaburi Hydropower Project on the Mekong River in northern Laos began operations, funded by Thai companies and banks.
Dozens of hydropower dams have been built on the Mekong and on tributary rivers in Lao territory, many of them funded by foreign countries, with China providing large loans for dam construction.
While these projects are good for the pockets of firms, they could also mean bitter consequences for people living downstream – and that includes 20 million Vietnamese people.
The fertile Mekong Delta is home to those 20 million people and is the food basket of Vietnam, producing more than 90 per cent of the country's rice exports, and providing 75 per cent of its fish.
But with upstream countries rushing to build more hydropower dams, people living downstream have suffered: dams caused the destruction of Mekong migratory fisheries, trapping of sediment, preventing it from travelling downstream, threatening the food and livelihoods of populations residing within the river basin.
Already battling climate change impacts, which is making the river's flow and levels more unpredictable, the Mekong Delta is facing a crisis.
According to a report by the Mekong River Commission, an organisation governed by ministers from Cambodia, Laos, Thailand and Vietnam, before the first dam in 1990, the Mekong was releasing 160 million tonnes of sediment on average per year. Now it is only 80 million tonnes per year.
The reduced sediments and nutrient flows would adversely decrease agriculture production in the Mekong floodplains as the delta's coastal areas become vulnerable to sea level rises and saline intrusion. The fish catch of Vietnamese coastal fisheries, which strongly depend on suspended sediment and associated nutrients deposited by the Mekong, will also be affected.
Le Anh Tuan, deputy director of the Research Institute for Climate Change at Can Tho University, said dams also contribute to the sinking of deltas.
Without sufficient sediment to replenish the land, erosion from the sea on the delta may increase, resulting in serious landslides.
A total 11 large-scale dams and more than a hundred tributary dams are planned by 2040 to meet power demand.
This would cause a further 50 per cent reduction of sediment load.
"And then the disappearance of Mekong Delta is only a matter of time," he said.
That is not to mention dangerous ventures for countries downstream if they lack adequate planning and readiness for disasters.
The collapse of the Xe-Pian Xe-Namnoy dam after heavy rains last year that killed more than 30 in Laos and left thousands of Lao and Cambodian people homeless shows the need for preventing similar tragedies in the future.
Make a choice
In the Luang Prabang project, Vietnamese firm VP Power, is slated to hold a 38 per cent share.
With the consultation for the Luang Prabang hydropower dam process ongoing, Vietnam needs to give it serious thought.
While hydropower projects can promote economic development, the potential hit to food security and agricultural productivity from decreased sediment flow will trigger higher poverty levels and climate vulnerability.
That, in return, would ultimately depress economic growth in all Mekong countries downstream.
The Save the Mekong coalition, a coalition of non-government organisations, community-based groups and concerned citizens within the Mekong region, recently expressed their concern over the Luang Prabang project.
"We, therefore, call for the Luang Prabang and other planned mainstream dams to be cancelled. Rather than embarking on another flawed Prior Consultation process, we urge lower Mekong governments and the MRC to address outstanding concerns regarding impacts of mainstream dams and to undertake a comprehensive options assessment to study alternatives," they said in a press release earlier last month.
"If built, Luang Prabang dam, combined with Pak Beng, Xayaburi and Pak Lay dams, would complete the transformation of the Mekong River along the entire stretch of northern Laos into a series of stepped lakes, resulting in major and irreversible damage to the health and productivity of the river. This means that the wide range of economic and social benefits that the river provides to society will be lost, and the river will become a water channel for electricity generation, primarily benefiting hydropower companies."
Vietnam has already urged Laos to rethink its plans for more dams.
"Vietnam wants all upstream Mekong River nations to adopt proper policies in exploiting the river, especially in hydropower dam construction, in order to ensure rights for downstream nations, like Vietnam," Vietnamese Minister of Natural Resources and Environment Tran Hong Ha said at a 2017 conference.
More recently, Vietnam called for greater attention to exploring renewable energy sources as replacements for hydropower in the Mekong Basin.
As a shareholder of the project, Vietnam will hold three discussion sessions and come up with a final technical report by March 2020.
It's time the country acts in accordance with its previous statement.
The Vietnam National Mekong Committee said in a meeting on Monday that the country would aggressively request Laos investors adjust the design of the dam to minimise negative impacts on downstream areas and to build supervision mechanisms before going on with the dam's construction.
But maybe Vietnam could do more.
It's not only about economic benefits, it's not only about co-operation. It's about food security and about life. Switching to less risky renewable energy is an option. Solar, wind, and biomass power have the potential to replace these dams, and as a country with a lot to lose from upstream dams, Vietnam could convince its neighbours to diversify their energy options.
Only by doing so, we will not be among those who silence the Mekong River. VNS
Thu Van

More than half of the Mekong Delta will disappear under sea level in the next two generations if no action is taken now, research has found.

The flood season in the Cửu Long (Mekong) River Delta is a natural phenomenon that occurs each year on the downstream Mekong River.