Nguyen Quoc Tri, director general of the Vietnam Administration of Forestry, talks about the dangers of forest fires during the dry season.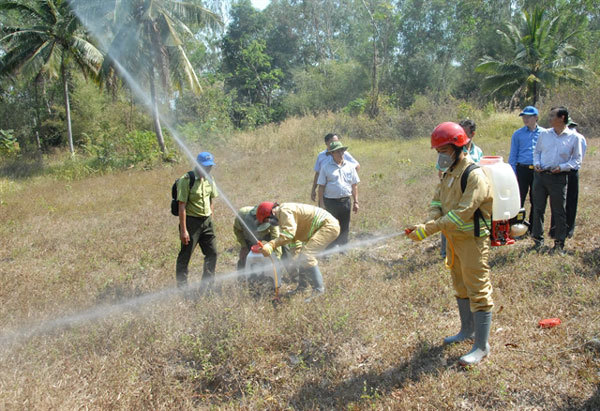 A forest fire drill in Tinh Bien District, An Giang Province on Monday led by deputy agriculture minister Ha Cong Tuan. 

How big a threat do forest fires pose in Vietnam at the moment?
South and central provinces are on their highest alert at level five. The main cause of this is the early drought in the Central and Southern regions.
As a result, the Ministry of Agriculture and Rural Development (MARD) has issued instructions urging all provinces to take measures to prevent and fight fires. According to the Weather Bureau, this year the dry season (from December-April) has arrived earlier than in previous years.
To deal with the situation, the General Department of Forestry has urged all local Forest Protection Sub-Departments to closely follow forest fires on the department's website.
How has high-tech been applied to prevent and fight forest fires?
We've been focusing on an early warning system. Technology has helped us quite a lot, particularly in the early detection of smoke from satellite images. In some localities, people have even erected fire watchtowers installed with fire alarms.
What are the main causes leading to forest fires? Who is in charge of forest fire prevention?
Open fires are the main cause of most forest fires. Other causes include simple carelessness.
Forest owners should take responsibility for protecting their forests from fires, followed by the local administration. Under the Vietnamese Law on Forests, owners are companies, enterprises or forest management units that have the responsibility of managing their allotted areas.
How do you evaluate forest fire prevention in Vietnam?
The General Department of Forests has organised many missions nationwide to inspect fire prevention efforts. The provinces of An Giang, Ca Mau and others have initiated detailed plans on how to stop forest fires and conduct regular training courses on tackling blazes. Meanwhile, local authorities have also launched communication campaigns to raise public awareness of fire prevention.
How much has been invested in firefighting equipment?
Cities and provinces nationwide allocate a budget each year for firefighting equipment.
Under Vietnamese law, local authorities and forest owners have to strictly follow fire alerts issued by the Forest Protection Department.
Provincial Forest Protection Departments should advise local people and visitors not to use naked flames in or around forests, particularly in the dry season. Meanwhile, functional agencies should develop training courses for the general public and foresters on how to stop or respond to an emergency.VNS

Forests in the southern province of An Giang are at high risk of fires due to the dry season and prolonged hot weather, local forest rangers have warned.
A wildfire has broken out in the central province of Ha Tinh, just a week after up to 267 hectares of local forest were burned down by fire.