Traders of E5 biofuel and biodegradable plastics bags are calling for government incentives to encourage the use of such products.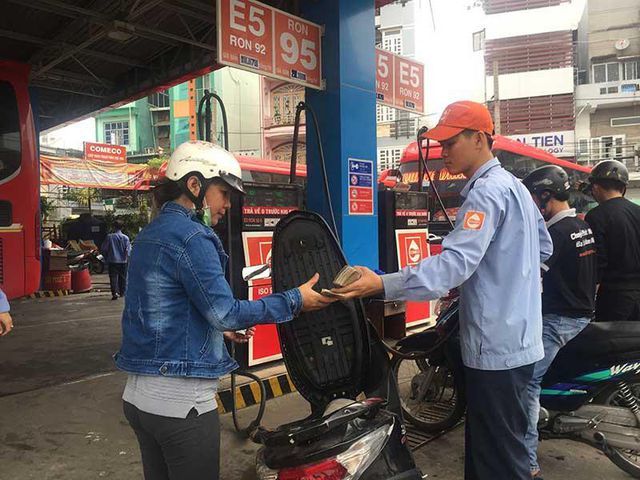 Eco-fuel consumption remains low
A seminar to seek opinions for amending the Law on Environmental Protection Tax was held in HCM City on August 28.
At the event, a representative from HCM City One-Member Limited Liability Oil & Gas Company (Saigon Petro), said demand for E5 biofuel has remained low and could fall even further.
The average proportion of the firm's E5 biofuel out of the total petrol sales was 30.6% last year. However, the rate was just 20% in the first six months of this year.
The price disparity between E5 and A95 is quite small at just VND1,600 per litre at present, which is one of the reasons for the low consumption of E5. Limited promotion of biofuel by the government and localities as well as fuel traders had also contributed to the problem.
Saigon Petro proposed reducing the environmental tax for E5 biofuel and raising the price difference between E5 and A95 prices to some VND2,000-2,500 per litre to encourage fuel traders to sell this type of petrol.
The sale of biodegradable plastic bags is in the same situation.
According to Saigon Packaging JS Company, despite having much higher production costs, biodegradable plastic bags have to pay the environmental production tax equal to other kinds of plastic bags. So, environmentally-friendly plastic bags have to be sold at higher prices.
The company has mostly sold biodegradable plastic bags to supermarkets but they can't compete with normal plastic bags which are priced much cheaper when it comes to local shops and markets.
Tran Hoang Ngan, a National Assembly deputy in HCM City, suggested that the Law on Environmental Protection Tax needs to be revised to prioritise environmentally-friendly products.
It is essential to add some other products such as chemicals into the list of being imposed with environmental protection tax, Ngan added.
The government should offer more favourable conditions, including tax reductions or preferential loans, to encourage companies producing environmentally-friendly products.
PLTPHCM/Dtinews