Van Dinh Hong Vu was honoured as one of 10 outstanding young Vietnamese people in 2018 for her successful start-up, English Learning Speech Assistant (ELSA), which has attracted more than four million users from more than 100 countries
Việt Nam News speaks with Vu about ELSA.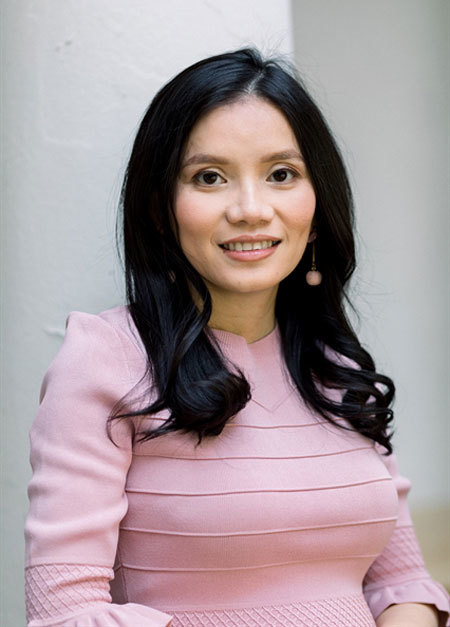 Van Dinh Hong Vu
Could you tell us why you set up ELSA?
I co-founded ELSA in 2015 with my CTO – Dr Xavier Anguera, whose background is in speech recognition and AI technologies.
The stories between me and ELSA come from my personal experience in trying to learn English. I moved to the US for my MBA and Master's in Education at Stanford. My first year at Stanford was very challenging because of my inability to speak English fluently, even though I was among the top students in English when I studied in Vietnam.
A lot of the time, people misunderstood me. I lost confidence and felt quite embarrassed. When I looked around, I was not alone. Most of my international friends who studied abroad faced the same shock in the first year. Yet, when I discovered this problem, there were no good solutions to solve it. When it comes to speaking, people could either go to a speech therapist that costs them US$150 an hour, who could listen to them and fix their pronunciation, or they could go to YouTube or watch Netflix, which is a one-way learning solution as there's no direct feedback to you when you say the words.
So, I decided to develop ELSA with my co-founder Dr Anguera to create a proprietary speech recognition technology that helps 1.5 billion English learners around the world speak English fluently and with confidence.
What are the advantages and disadvantages of running ELSA? Can you tell us about stories that impressed you?
On the cultural side, Vietnamese are lifelong learners who are willing to invest resources into upgrading their English skills constantly. Young Vietnamese are highly educated and tech-savvy. There is also a great trend of adopting mobile app learning solutions.
The biggest obstacle for us is that people are not very aware that pronunciation is the core skill to good speaking, listening, and communication in English. As a result they often skip the practice of pronunciation, and keep making bad habits in speaking. It's an obstacle and also an opportunity for ELSA. We are progressing well in educating our users on this matter, and people appreciate this.
Whether to learn English face-to-face, or via apps, the answer is about the quality, not the approach. Learning English is a journey that each person will need a different approach, based on their skill level and their learning style. I think it's better to learn directly with a qualified teacher when you are a beginner. However, most people typically only have a few hours a week with their teacher, in a class with many other people. That's not enough. In my research I discovered what distinguishes people who can master the language and people who keep struggling with it – is their ability to self study and self practice. This is where apps like ELSA can be a great tool.
What is your secret for luring highly qualified staff to work with you?
Actually that was my biggest challenge back then. I needed to call for the world's leading technology experts to work with me.
Given the fact that ELSA cannot compete with the giants in terms of salary, what I could do was to emphasize ELSA's big vision and mission, why it was created and what changes it could bring to the language learning community around the globe. I was lucky enough to have such companions who are top experts with many years of experience in the field. Monetary values are not their biggest interest, but they would rather seek opportunities to utilise their talents and create positive values for people around them and leave an impact in the world.
What is your advice for Vietnamese English learners?
To get the most out of ELSA, you should practise regularly and keep the learning schedule going. Not only ELSA, but any other learning will ask for your self-discipline, hence you are the key factor. ELSA can send you millions of notification encouraging you to study, yet it will serve no good if you cannot push yourself to actually open the app and start learning.
Steve Jobs once said: "Be hungry, be foolish." Do not be afraid to make mistakes, everybody does, and that's the very basic foundation of learning. ELSA helps you find your mistakes, from which you'll know how to improve. Just keep learning.
Can you tell us something about Elsa Pro that your company sponsored for Vietnamese teachers of English in Vietnam. Have you received any feedback?
In November 2018, we officially launched the campaign called "Thầy cô Việt dạy tiếng Anh hay" (Vietnamese teachers with good English teaching). The campaign consists of two main parts:
- Sponsoring every English teacher across Vietnam with an ELSA Pro account, so that teachers can explore and better equip themselves to initiate students to learn English properly and excitingly; and
- Introducing the Teacher Dashboard platform to all teachers and schools. This platform allows English teachers and schools to integrate ELSA into their curriculum and help students with their speaking skills.
The campaign has been going on for more than six months, and we have received such positive and amazing feedback from schools and teachers, saying this really empowers and enables them to better help their students improve their English.
VNS
RELATED NEWS
Vietnamese startup raises $7 million from Silicon Valley
Vietnamese technology firms make big leaps in AI research
Startups in VN need easier capital attraction