Developing a smart city and commercializing 5G are the two key tasks the Ministry of Information and Communications (MIC) and the Hanoi People's Committee have assigned to the Hanoi Department of Information and Communication.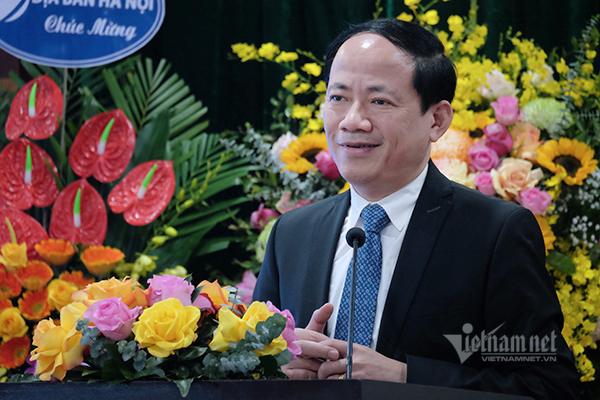 MIC's Deputy Minister Pham Anh Tuan
In a report presented at a conference on reviewing tasks in 2020, the department said it had helped the Hanoi People's Committee set up a plan on IT use in Hanoi in 2020 as well as IT use in state agencies, further developing digital government and ensuring cybersecurity in 2021.
The department submitted to the municipal authorities a plan to implement Decree 45 on administrative procedures for the electronic environment, and to set up a program on digital transformation in Hanoi by 2025 with the vision until 2030.
The agency also played an important role in the construction of infrastructure items at the software park in Dong Anh district.
In terms of post and telecommunications, the agency advised municipal authorities on the regulation on managing, building and using technical infrastructure works for common use, and upgrading and rearranging telecom cables on poles.
The department also worked with MIC's specialized agencies to implement Decree 92 on fighting against spam messages, e-mails and calls.
One of the outstanding telecom achievements of Hanoi in 2020 was the trial of 5G services and the installation of public wifi at tourist sites and historical relics in the city.
In the fields of press, publications, media and electronic information, Hanoi has implemented the first phase of the plan on rearranging, developing and managing press agencies in Hanoi by 2025. The department is building a plan on establishing a Hanoi press center.
Nguyen Thanh Liem, director of the Hanoi Department of Information and Communications, affirmed that Hanoi has pioneered eliminating spam calls and messages.
Hanoi aims to improve its image in information technology application in 2021. With new infrastructure items such as the smart operation center, the cybersecurity monitoring center and shared software systems, information technology application in the city will be better in the time to come.
Trial for 5G, new IT zones
MIC's Deputy Minister Pham Anh Tuan praised the achievements of the Hanoi Department of Information and Communications in 2020. He asked the department to build an action plan based on the key orientations shown in Instruction 01 from MIC.
Tuan urged Hanoi to complete the Vpostcode map with addresses of every household. This is considered the foundation for e-commerce development and management.
Regarding the ICT industry, Tuan wants Hanoi to develop concentrated IT IZs, as well as startups and technology firms.
Hanoi's Vice Mayor Chu Xuan Dung wants the department to give advice to the city about programs related to digital transformation and smart city building. 
Trong Dat

The Yen Phong 1 Industrial Park in northern Bac Ninh province has become the first park in Vietnam to gain access to the 5G telecom network, with the new technology launched onsite by Viettel on January 14.

After telecoms carriers conducted commercial 5G trials in big cities like Hanoi and Ho Chi Minh City, many provinces have sent recommendations to the Ministry of Information and Communications