The impressive growth of Vsmart, a Vietnamese brand, was the highlight of the Vietnamese smartphone market in 2020.
Mid-end and affordable products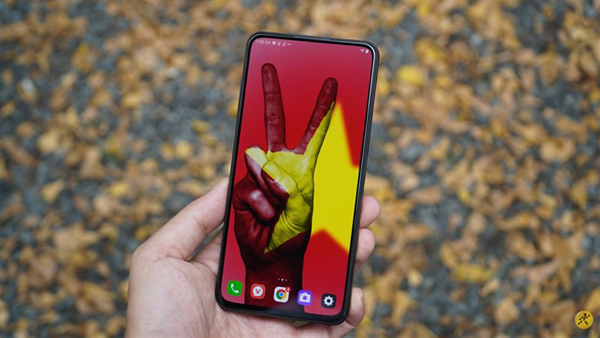 While flagship phone prices escalated and more manufacturers launched expensive products priced at over $1,000, Vietnam was still a market for mid-end and affordable products in 2020.
Affordable products, with prices below VND3 million, accounted for nearly 30 percent of the Vietnamese market. And in the market segment, Vsmart was the best known brand with a wide range of choices for customers, from Bee to Star to Joy.
Vsmart seems to understand Vietnamese customers, who want smartphones with high quality and reasonable prices. The manufacturer equips its products with the strongest configuration in the market segment.
Smartphones with invisible cameras
In September 2020, the first two smartphone models with camera under display (CUD) were launched nearly at the same time – Vsmart Aris Pro and ZTE Axon 20 5G.
Prior to that, some large companies released an invisible camera phone concept. However, Vsmart was the first commercialized product to do so in Vietnam.
Vsmart Aris Pro was praised for its Vcam Kristal technology using AI developed by Vingroup's Artificial Technology Institute.
The successful application of CUD in Vsmart Aris Pro has made the Vsmart brand famous in the world market.
Vietnamese brands compete well with foreign brands
While Covid-19 has had a strong impact on the global smartphone industry, it also tested manufacturers' research and development capability, and their adaptability. After a difficult period, Samsung regained its No 1 position and maintained the position in 2020.
In Vietnam, the two leading positions belong to Samsung and OPPO. Meanwhile, a Vietnamese brand competed well with big foreign manufacturers.
Vsmart convincingly gained the third position with market share of up to 16.7 percent (this was the first time a manufacturer in this position had a two-digit market share).
Smartphone security
Smartphones have been increasingly optimized to conduct financial transactions and contain users' important information and data. Manufacturers have improved the features to secure smartphones against hackers.
Security technology consists of different layers. The outer layer is physical security with fingerprint authentication under the screen and face recognition. The inner layer is much more important, because the data targeted by hackers is mostly inside.
Vsmart Aris and Aris Pro use technology with the quantum security chip Quantum QRNG and strong key authentication key FIDO2. Vsmart's representative said the technology minimizes the risk of being hacked. 
Trong Dat

Around 22 million subscribers out of total 130 million mobile phone subscribers in Vietnam use 2G, according to the Authority of Telecommunications (AOT).

Millions of fake calls and tens of thousand of subscribers in the last five months were handled, but network operators do not appear to be sufficiently determined to fight against spam calls.