As many as 128,970 mobile subscriptions that delivered spam calls and messages have been deactivated since last July, according to the Vietnam Telecommunications Authority under the Ministry of Information and Communications.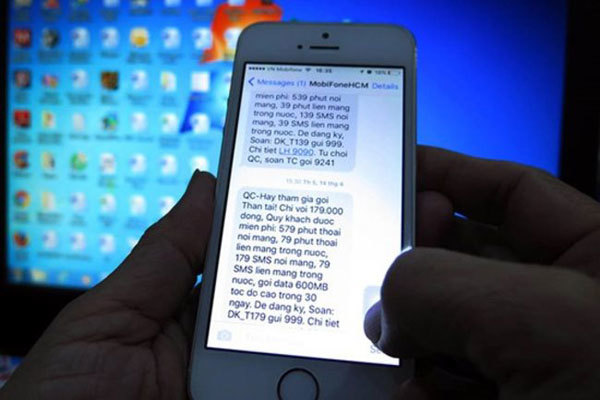 A subscriber reads a spam message on his mobile phone. Nearly 17,300 mobile subscriptions delivering spam calls were deactivated last month. - Photo: VNA
Major telecom carriers such as Viettel, Vietnam Post and Telecommunications Group (VNPT) and MobiFone have adopted various measures and launched a few technology apps to filter spam text messages and calls since last July, while Itelecom and Vietnamobile began blocking mobile subscriptions delivering spam calls in September and December 2020, respectively.
In March 2021 alone, nearly 17,300 mobile subscriptions delivering spam calls were deactivated. Military-run telecom carrier Viettel deactivated the largest number of mobile subscriptions at 8,600, followed by VNPT and Mobifone.
November 2020 saw the largest number of deactivated mobile subscriptions at over 20,200.
At present, telecom carriers use big data and machine learning technologies to identify mobile subscriptions that deliver spam calls and messages.
Besides having their mobile subscriptions deactivated, individuals and organizations that deliver spam calls and messages are also fined in line with Decree 91 dated August 14, 2020, on fighting spam messages, emails and calls.
Since October 2020, mobile subscribers in Vietnam have been able to register for the Do Not Call list of the Information Safety Department to prevent spam calls and messages.
SGT

iMessages with advertising content about gambling are being sent to iPhone users in Vietnam.

Decree No.91 by the Government about fighting against spam advertising calls, emails, and messages went into effect from October 1, along with the new hotline 5656 of the Vietnam Telecommunications Authority to report spam calls, messages.