Freelance shippers in Hanoi and HCMC have turned off apps and stopped working, creating 'holes' in goods circulation. But Vietnam Post and Viettel Post have committed to fill the need.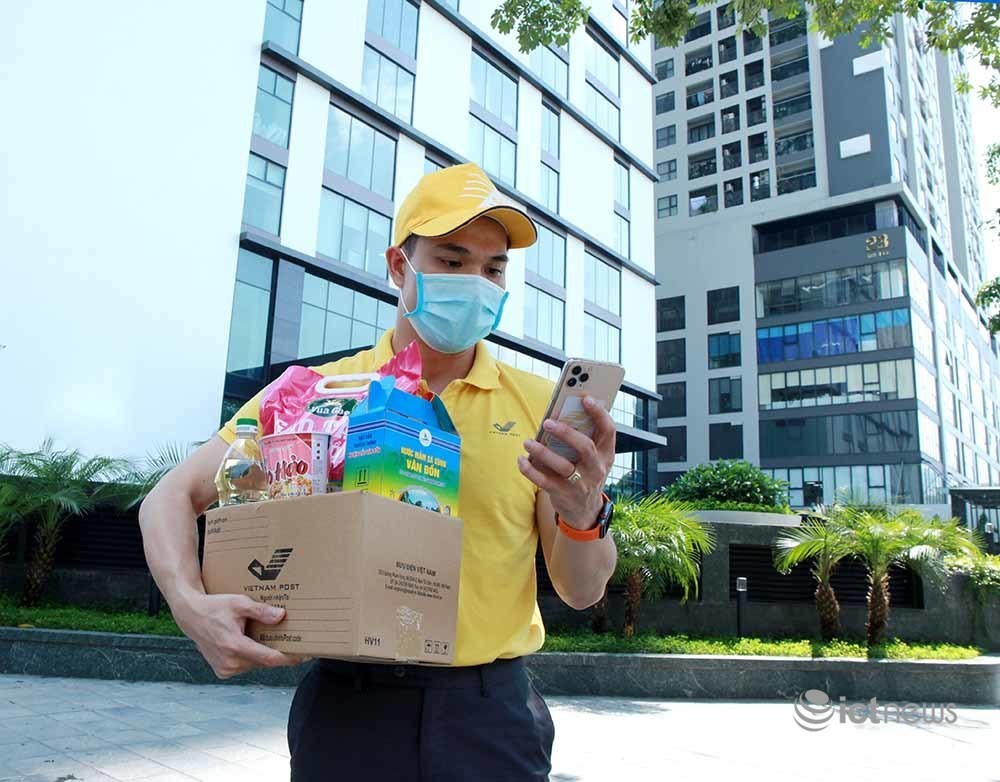 In an effort to reduce traffic density, local authorities of HCMC, a Covid-19 epicenter, on July 26 told enterprises to reduce the number of shippers by 10 percent. Enterprises were asked to provide identity characteristics of shippers. Each shipper would operate in one district only.
However, the regulation on the area for shippers to operate was loosened on July 29, allowing those who carry essential goods to travel among districts and Thu Duc City.
In Hanoi, since the first day of the social distancing campaign, the municipal authorities stopped goods carried on motorbikes by freelance shippers. Meanwhile, postal services and shippers put under the management of enterprises have to register to get operation codes from the Transport Department.
As of July 30, as many as 15,255 postmen and shippers had been granted operation codes for social distancing days, including 13,668 postmen of 20 postal companies, which accounted for 89.5 percent.
Postal workers and shippers said the shipping activities in some localities under social distancing still faced difficulties in the first days. Some postal staff were prevented at checkpoints because they 'carried non-essential goods'. However, the disagreement in understanding about 'essential goods' has been clarified.
In HCMC, not only freelance shippers, but shippers of some companies have also stopped working and turned off delivery apps because of the limited working conditions, the fear of infection, and the risk of being fined when going through checkpoints.
The Vietnam E-commerce Association has warned that if shippers resign from their post en masse, this will lead to a crisis and supply chain disruption.
At a meeting on July 30 between Ministry of Information and Communications and two postal companies Vietnam Post and Viettel Post, and representatives of 19 southern provinces under lockdown, MIC Deputy Minister Pham Anh Tuan once again emphasized the role of postal workers and shippers in maintaining local supply chains.
He said that tightened measures are applied in pandemic hit areas, which are necessary to maintain the operation of postmen and shippers.
Tuan, at an online forum discussing the supply-demand connection, asked the 19 southern provinces to create favorable conditions for postal services and shippers to work.
With 8,000 postal workers granted operation codes in Hanoi and HCMC, Vietnam Post and Viettel Post are making a great contribution to ensuring the uninterrupted supply of essential goods.
Vietnam Post and Viettel Post have been working with some supermarkets, food shops and e-commerce sites to deliver goods ordered online by consumers. 
Trong Dat

The Vietnam Post has piloted the Post Smart automatic delivery cabinet model in 40 post offices in Hanoi and Ho Chi Minh City from July as part of efforts to minimise the risk of COVID-19 spreading.