Carrying a reusable shopping bag and a reusable plastic box to go to the market has become a habit for Hoang Thanh Hien, a 37-year-old woman, who lives in Linh Nam Ward, Hanoi's Hoang Mai District.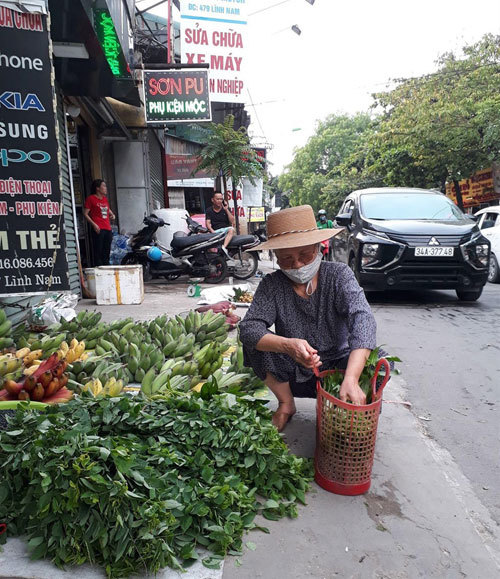 Reusable bags are gradually replacing single-use bags. 
Every day, she goes to the traditional market near her house and asks a butcher or fishmonger to put pork or fish in the plastic box for her instead of a plastic bag.
"I've been doing this for almost a year. I see some people follow me. We just wanted to contribute a small thing to environmental protection," Hien told Việt Nam News.
"Platic bag use habits have gradually changed. I hope more people will do this also."
"Imagine how much waste we could reduce if we all made this simple daily change!"
After a year of launching a national campaign on plastic waste prevention, small acts to protect the environment have become more common, contributing to changing habits and raising awareness.
Restaurants, fashion shops, agricultural stores and more across the country have changed their use of plastic items.
The number of 'green shops' which commit to "say no to plastic waste" is increasing with the use of organic, biodegradable or reusable products.
Cafés in big cities including Cong, Haven book, Luvuvu, Thinker&Dreamer and Trung Nguyên Legend all use glass instead of plastic cups, straws made from sugarcane, grass, paper, stainless steel and paper cups for takeaway.
PJ's Coffee is one of the leading coffee chains in reducing plastic consumption in business operations with alternative products, while Passengers Fruity & Nutty Drink in HCM City is testing straws made from rice flour.
In schools, raising awareness for each student about environmental protection has been improved. The use of plastic covers to wrap books and notebooks is not compulsory.
They also learn more about the harmful effects of plastic waste.
"The abolition of regulations on schoolbook wrapping with plastic covers is really practical. It not only helps protect the environment but also saves families' expenses," Nguyen Hai Yen, a mother of high school student, said.
Green actions
Helping the community feel good about cleaning up the environment is not a quick and easy solution, but turning someone else's problem into everyone's opportunity might help.
Campaigns to collect recyclable waste such as cans, plastic bottles, paper boxes in return for trees have been launched in many schools and organisations.
The project 'Exchange paper for trees and exchange plastic for gifts' of young people in Da Nang City last year showed the responsibility of young people for plastic waste pollution and helping change community behaviour.
Members of the group have created beautiful and useful decorations from plastic bottles, packaging, paper and planted flower pots to exchange when students collect plastic waste and paper.
From this idea, many high school students also use plastic bottles to grow trees, creating green spaces at home.
"I and the project's members wish the programme will work persistently, raising awareness of environmental protection for young people and the community," Nguyen Tien Danh, a member of the project told Da Nang Online newspaper.
Women in cities and provinces across the country have also taken actions to protect the environment, for example, women in Ben Tre Province have called traders in the local markets to commit to using eco-friendly plastic bags instead of plastic bags.
Many women in Quang Ninh Province have urged people to limit the use of single-use plastic products, classify waste at source, recycle and collect used plastic bottles and plastic bags to be reused as construction materials, chairs, bags, flower baskets or toys.
Many supermarket chains such as Coop.mart and Big C are moving to go green by replacing plastic packaging with natural materials such as banana leaves.
According to the Ministry of Natural Resources and Environment, Vietnam discards about 2 million tonnes of plastic waste into the environment each year.
Plastic items are generally cheap and convenient; however, they have critical impacts on human health and the environment.
Meanwhile, people still do not have the habit of sorting waste at source, causing more difficulties for recycling and dealing with plastic waste.
In June 2019, Prime Minister Nguyen Xuan Phuc launched a national campaign on plastic waste prevention, particularly single-use goods. He emphasised the need to take practical measures to reduce plastic waste.
With a long-term plan, from the end of 2019, the Ministry of Natural Resources and Environment has formulated and submitted to the PM the National Action Plan on plastic waste management to 2030.
The plan sets a target of reducing 75 per cent of plastic waste in the sea and ocean by 2030 and ending the disposal of fishing gear directly into the sea. Under the plan, all tourist areas, accommodation service establishments and other tourist services in the coastal areas will not use single-use plastic products and slow degrading plastic bags. It also hopes to have all marine protected areas free of plastic waste.
The ministry is focusing on setting up and completing the projects of 'International Centre for ocean plastic waste' and 'Strengthening the management of plastic waste in Vietnam' to review regulations and policies in management, collection and treatment of plastic waste, as well as to create policies to encourage local firms to invest in technologies or move to produce compostable goods rather than plastic items.
The ministry will continue to work with agencies and coastal localities to protect the marine environment and raise public awareness on the use of plastic.  VNS

Pham Dat, 28, started up his own café shop – Tipi Coffee – in the central city of Da Nang in 2014, but started going 'green' by using bamboo straws two years later. The shop started using glass and stainless steel straws in 2017.

Intellectual property rights are the centre of all efforts to create a green future, Dinh Huu Phi, director-general of the Intellectual Property Office of Vietnam, tells Vietnam Government Portal.