VinGroup's investment in the auto industry is a great challenge, coming from high aspirations and showing a sense of responsibility to the country.
VietNamNet would like to introduce an article by Minister of Information and Communications Nguyen Manh Hung about businesses successful commercial switch to the field of technology.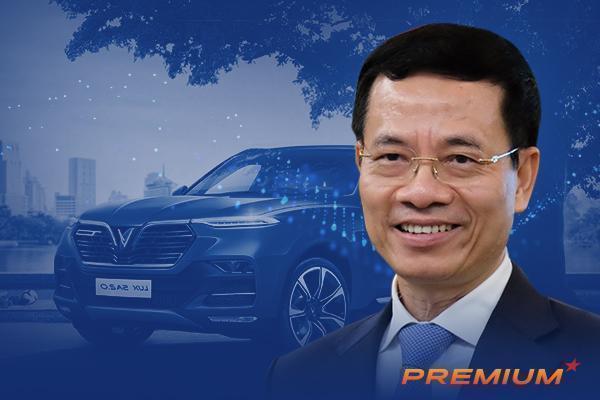 Minister of Information and Communications Nguyen Manh Hung
Vietnam aims to become an industrialized country by 2045, after 100 years of independence, and the country must rely on technology and industry businesses.
Vietnam technology enterprises and the Make In Vietnam program aim to solve the problem of technology and industrial development in Vietnam. In May 2019, the Government held a forum to spread this message. The Prime Minister will issue instructions on developing Vietnamese tech-firms and Make In Vietnam.
The large commercial and service companies, once they have the financial, market, management and human resources potential, must take on the technological and industrial mission of the country. VinGroup is one of the first trade-service groups to announce the strategy to become a technology - industry - and service trade group. The Government supports, encourages and calls for more Vietnamese businesses to develop in this direction.
VinGroup's investment in the auto industry is a huge challenge stemming from a great aspiration, showing the sense of responsibility to the country of an entrepreneur and a business. But only big challenges create great entrepreneurs and businesses.
The Vietnamese market is the cradle for Vietnamese technology businesses, but in order to grow and compete, they must go global. Global competition is the best test for technology and industry businesses. VinFast has to compete globally - this is a requirement the Government has set for VinFast. But Vietnamese people also have to give priority to using Vietnamese goods, and of course, the quality must be good and the prices reasonable. That is an expression of patriotism, helping Vietnam to rise and reach out.
Make In Vietnam is the master of the design, the core technology, the integration into commercial products. Without mastering these important stages, it is simply an assembly process. VinFast can go from assembly, but it must be a Vietnamese technology company with the "Make In Vietnam" ability, with Vietnamese cars, to be the pride of Vietnamese industry. Let's put our trust in VinFast, but it is also necessary for Vietnamese management agencies and Vietnamese customers to assess VinFast's operation strictly, because that is the best way for VinFast to mature.
VinFast has an advantage of being behind but can go first because of this. This means that it can immediately invest in manufacturing electric cars, building factories with the latest, smartest technology, the highest level of automation. Another advantage of VinFast is gathering global talents. If Vietnam wants to develop in the era of innovation, it must be a place of convergence of global talent. But the biggest advantage of Vinfast, of Vingroup, is that it is led by a talented businessman who has national aspirations and part of the F1 generation of entrepreneurs, while global competitors are mostly of a very far time.
With the opening of the VinFast auto factory, we want to convey a message to Vietnamese businesses, especially those with financial potential: Let's invest in the development of technology and industry in the country, not only for the future of Vietnam but also for the future of these businesses, when technology and industry are the answers to the sustainable development of the country and businesses.
Minister of Information and Communications Nguyen Manh Hung

Vietnam has the opportunity to manufacture electric cars more easily than other countries with already well-established auto industries because Vietnam has no auto industry that would need to to sacrificed, experts have said.

Only when fast-charging batteries along with a nationwide system of charging stations will electric cars become popular in Vietnam.