French Ambassador to Vietnam Nicolas Warnery honoured two Vietnamese scholars within the framework of the Franconomics international forum 2019 held in Hanoi on October 23.
Accordingly, Director of the International Francophone Institute(IFI) Ngo Tu Lap was conferred with the Knight of the Order ofArts and Letters of France while the Order of Academic Palms was presentedto Associate Professor Dr. Trinh Van Minh, senior lecturer of the University ofEducation under the Vietnam National University (VNU) – Hanoi.
Established in1957 by the Minister of Culture, the Knight of the Order of Arts andLetters is one of the ministry-level distinctions of France for individuals whomake contributions to literature and arts in France and the world.
As a former naval officer, Lapgraduated from Baku Marine University in the former Soviet Union, Hanoi LawUniversity, Fontenay-St Cloud University (master level), and Illinois StateUniversity (doctorate level). He published over 20 books, including four shortstories, two poem and five essay collections along with works translated fromFrench, Russian and English language.
He won many prizes and wasnominated for PEN Award for Poetry Translation with "Black Star" collection.
Under hisleadership since 2016, IFI has become a multi-disciplinary research centre thathas close links with French universities and attracts members from over 20countries. It is also a Francophone centre in Asia-Pacific.
The Order of Academic Palms is the oldestFrench distinction founded on March 19, 1808. Decisionson nominations and promotions are decided by the Minister of NationalEducation.
Associate Professor Dr. Minh graduatedfrom the University of Languages and International Studies (bachelor level),Aix-Marseille University (bachelor and master level on linguistics), New Sorbonne University - Paris III(master and doctorate level on language and culture teaching theory).
He was a memberof the Scientific Committee under the Francophone University Agency (AUF), President of the Regional Committee of Expertsof AUF in Asia Pacific, former dean of the Pedagogy Science Faculty underthe VNU- Hanoi.
As a regular expert who wasinvited to work with the Vietnamese Ministry of Education and Training, the International Francophone Organisation's Asia-Pacific Regional Francophone Centre, the AUFand the French Embassy in Vietnam, Minh authored dozens of books and articlesabout French teaching and training of French language teachers in Vietnam andthe world.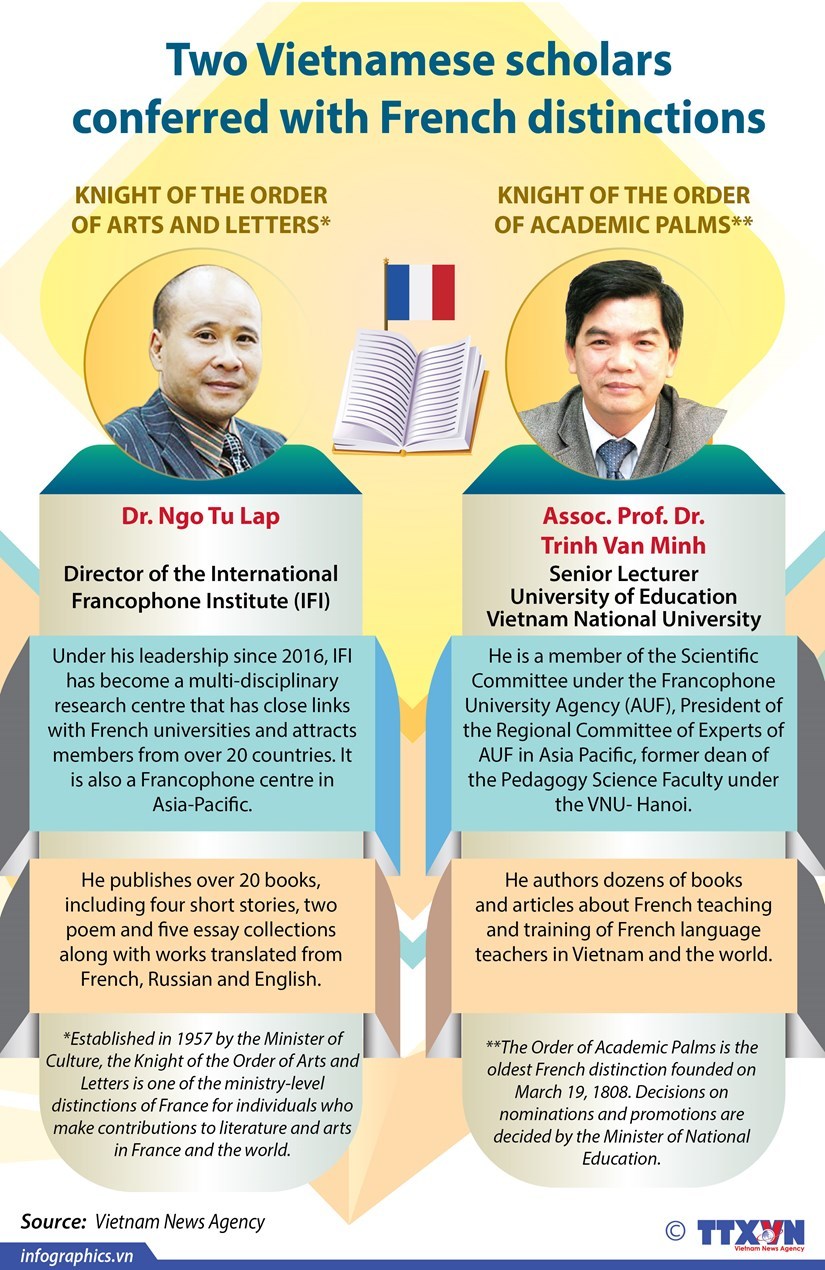 The Vietnam Department of Peacekeeping Operations (VDPO) together with the office of French defence attaché in Vietnam opened talks regarding UN peacekeeping missions on October 21.
A mural featuring Vietnamese and French flowers has been painted in the Parisian suburb of Choisy-le-Roi to enhance the friendship between two countries.