Nguyen Duc Anh, co-founder and CEO of video start-up Uiza, did not let abundant challenges and a relative lack of resources and market experience stand in the way of his ambition to build an outstanding business.
Investment funds' money funnelled to technology firms
Two young men successfully start up with globalized customer support system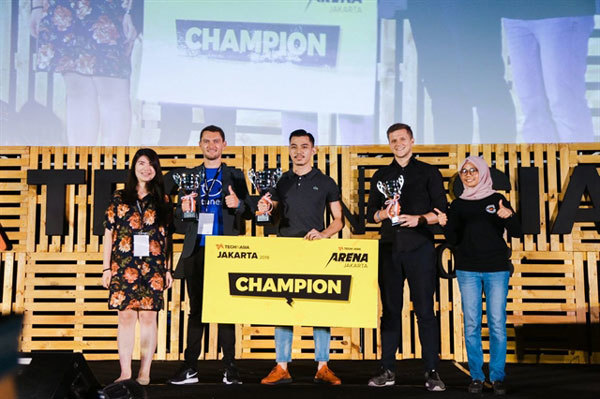 Uiza, a HCM City-based video and livestream cloud API platform, was been named as the winner of Tech In Asia Jakarta 2018 ARENA Pitch Battle in Jakarta in October last year, pocketing a cash prize of US$3,300. Photo www.techinasia.com
After much hard work, Anh, 30, is starting to see his video streaming Application Programming Interface (API) platform take off.
The start-up has just secured US$1.5 million in funding from Surge, a rapid scale-up programme for start-ups in India and Southeast Asia run by American venture capital firm Sequoia Capital.
He said the funds would be used to hire more talented engineers and build a product that can satisfy customers.
Uiza is a platform for developers. It helps them add video and live streaming functions to their applications and websites with just a few lines of code.
The platform is designed to optimise the viewing experience using data collected from internet service providers, video views and hundreds of transmission locations.
After graduating from Troy University in the US, Anh worked for CGI Group. Noticing that language is a big barrier for multinational companies attempting to penetrate the Southeast Asian market, he returned to Vietnam to set up VNLOCTRA, a start-up that uses machine translation to translate from English to local languages.
In 2016, Anh joined Topica, one of the region's leading online education providers, as a senior manager for international product development. While working at Topica, he dreamed of building a video system that could support millions of users while remaining simple for developers.
In September 2017, Anh decided to resign from Topica to pursue his dream.
"We hope Uiza will play a key role in that process by empowering more companies to stream video in an affordable way to new or untapped consumer segments and reach Asia's emerging mass markets," Anh said.
But it hasn't been smooth sailing. Anh encountered difficulties in recruiting staff and securing funding.
Anh had to travel between Hanoi and HCM City many times to persuade experienced engineers to join the company. He met more than 20 engineers in Hanoi but only one agreed. After much persuasion, he was able to find 10 engineers in HCM City who were willing to team up with him.
"Eleven engineers have given up stable jobs with salaries of dozens of millions of Vietnamese dong to accept my invitation through one or two meetings," he recalled.
But even after securing a talented team, Anh faced tough times. In the middle of 2018, the company decided it had to change paths.
"When we first started Uiza, the objective was to build an online video platform, like a content management system for video to serve local countries here in Southeast Asia," he said. "The problem we saw before is that there were a few solutions in the market but they were so expensive and focused on enterprise."
They wanted to bring a more cost-efficient solution to small- and medium-sized enterprises like tech start-ups. However, it still had not caught on after six months, and Anh concluded the market did not need another video platform.
Anh decided it was time to re-evaluate, so he halted all of his team's projects and sent them out to get feedback from clients.
A month later, they decided to transform the platform to serve developers by providing easy and cost-effective video processing and delivery.
"The lesson we learnt here is that talking and really understanding what the problems of clients is critical," he said. "Don't assume that they need this or they need that."
Recalling challenges in the early days of the company, Gareth Nguyen, Uiza's other co-founder, said: "We slept on the floor of the office and most of the team did not take any salary at all. That actually allowed us to focus 110 per cent on developing the product."
They faced new problems every day, ranging from issues with the product and technology to fundraising, he said. The challenges taught the team the importance of tenacity.
"Before Sequoia, we met with up to 30 different VCs [venture capital firms] and the answers we received were mostly 'no'," Gareth said. "The pressure on the founders is just incredible. But the more pressure, the harder we work."
Their hard work is finally starting to pay off.
The start-up received its first customer four months after its founding, grabbing the attention of foreign and domestic investors.
In August last year, Uiza secured pre-seed funding from venture capital firm ESP Capital and Japanese IT Corporation Framgia Inc.
The start-up also won a cash prize of US$3,300 by beating five other start-ups in the arena pitch battle at Tech In Asia Jakarta 2018 in October.
"Vision and mission: this is the most important part," Sequoia said in feedback sent to Uiza last week. "If we don't have a vision that is big and tackles a real problem with a unique solution, people will not care. This is something that we acknowledged very soon in Uiza."
According to Dang Vinh Phuc, CEO of Edumall Vietnam under Topica, Uiza's platform was selected for online courses because it provided a better experience for participants.
Asked what advice he would like to share with anyone considering starting a business, Anh said: "People should be fully prepared before starting a business. If you go hunting but don't bring any weapons, the change of being wounded or killed will be much higher."
"The best strategy of a lot of successful founders in Silicon Valley is to work a few years in another big successful start-up before you start your own," he said.
VNS