The most advanced security technologies and solutions are being introduced at the Vietnam's Dedicated Defence & Security Exhibition (DSE Vietnam 2019) which opened at the International Centre for Exhibition in Hanoi on October 2.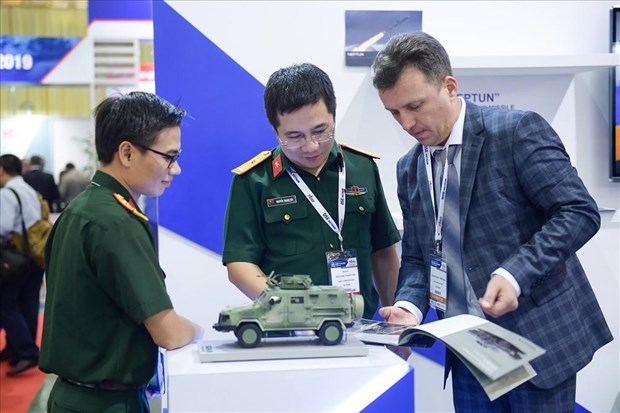 At the Vietnam's Dedicated Defence & Security Exhibition (Photo: laodong.vn)


The three-day event is jointly held by theMinistry of Public Security's Department of Equipment Supplies and Warehousing,the Ministry of Defence's Defence Economic Technical Industry Corporation,EIFEC Company Limited and Singaporean Expo Services Pte Ltd.
 
Hundreds of the world's leading brands indefence and security have registered to attend the exhibition, includingRosoboroexport, Techmash, NIIPH, UVZ, Ukspecexport, Lockheed Martin, Airbus,MBDA, Imperial Fleet, IAI, AutoGyro, Starks Motors, Arsenal 2000, WBElectronics, TRD, Raytheon, Q Optiq and Hancom, among others, from Israel,France, Russia, Singapore, Ukraine and the US. 

They will showcase the most advanced weapons, defencetechnologies, surveillance systems, covert and overt information managementsystems, ammunition, armoured vehicles and tanks, radio-tracking andpositioning systems, radars, warships, unmanned vehicles, and border protectionand surveillance systems.
Besides exhibition activity, there will be asymposium with technical topics in defending infrastructure from cyber-attack,solutions to detect and prevent unmanned aerial vehicles, drug detectiontechnology, protection measures against biological, chemical and nuclearagents./.VNA