The Sài Gòn High-Tech Park Incubation Centre (SHTP-IC) and New Energy Nexus in Southeast Asia are kicking off the New Energy Nexus programme to support Vietnamese start-up companies in the renewable energy field.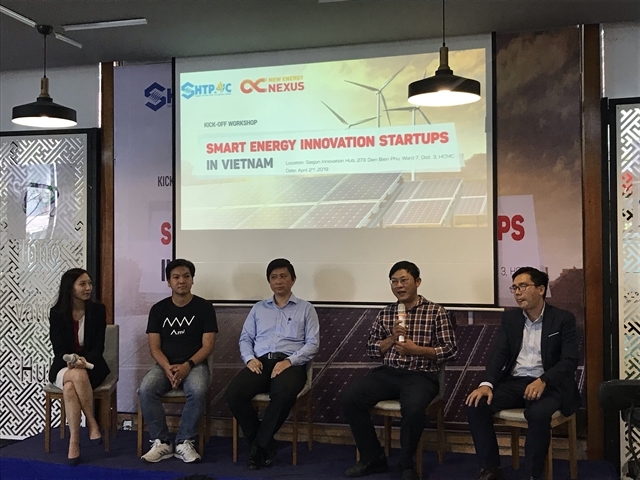 Experts and startups in the renewable energy field share experiences at the Smart Energy Innovation Startups event held in HCM City.
The programme will include experts in the industry to support startups in three phrases. In the first phrase, the programme will connect start ups in an effort to create a community that shares information and experiences in the renewable energy field.
In the second phase, the programme will hold a two-day exhibition, which is expected to take place in early June.
Lê Thành Nguyên, director of SHTP-IC, said the exhibition would select quality projects to enter phase 3. The startups will receive support to complete their products, and call for investment to bring them to the market.
In addition, the SHTP-IC will provide modern equipment, the latest technologies and laboratories at the Sài Gòn Hi-tech Park in District 9 for start-ups to conduct research and develop their products.
Stanley Nguyen, regional programme manager of New Energy Nexus, said the programme aims to build a regional ecosystem of support services, so that many startups and enterprises in Việt Nam will have a chance to work with other foreign agencies.
The program has supported startups from Thailand and Indonesia, and soon the organisation will implement support programs in the Philippines, he said.
Nguyễn Xuân Hiền, CEO of Ingreentech Company, which provides smart and environmentally friendly technology solutions for businesses and households, said the city's Department of Science supported startups through tax incentives and financing.
The cost for households to install solar panels is VNĐ150million to VNĐ250 million, much lower than the past few years. It will take five to seven years for households to recoup the capital by selling the surplus back to Vietnam Electricity, according to Hiền.
Việt Nam's annual power consumption has increased by 10 per cent in recent years, and the country is at risk of facing power shortages in the future.
"Solar energy is an appropriate source of energy to solve the problem," Hiền said. —VNS