In recent days, Internet users in Vietnam have encountered problems using international services such as downloading content and images on Facebook, sending gmail or watching YouTube.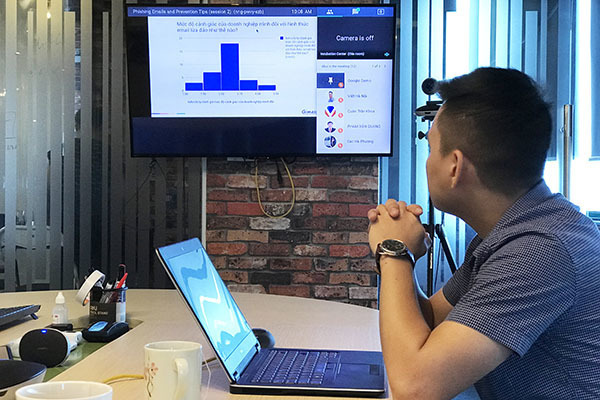 APG and AAE-1 are two of the five undersea cable routes that account for most of the Internet connection capacity from Vietnam to the world, along with three other undersea cables, namely AAG, IA and SMW3. (illustrative image)
Internet service providers (ISPs) in Vietnam told VietNamNet that two of five undersea cable routes that account for most of the Internet connection capacity from Vietnam to the world have been interrupted.
Specifically, the Asia Africa Europe 1 (AAE-1) undersea fiber optic cable had a problem on the morning of May 26. The operator detected a voltage drop on the S1H branch of the AAE-1 route. According to the initial assessment, there was an error causing a partial break of the fiber on the S1H.1 segment of the cable route.
ISPs in Vietnam have not received a repair plan to fix the problem on the AAE-1 undersea fiber optic cable.
Put into operation in July 2017, AAE-1 fulfills the role of improving Internet connection quality towards Europe and the Middle East as well as providing additional capacity and redundancy towards the connection direction to Hong Kong (China) and Singapore.
While the incident that occurred on the morning of May 26 on the AAE-1 undersea cable route has not been fixed, according to a representative of an ISP in Vietnam, another undersea cable line, APG, had cable maintenance in the direction of Hong Kong (China) from 12am on June 5 to 10pm on June 10.
The Asia Pacific Gateway - APG international undersea fiber optic cable route was put into operation in mid-December 2016, after four years of construction. With the participation of four domestic carriers, APG is considered a cable route that offers a stable transmission line with a large capacity for Internet users in Vietnam.
Capable of providing a maximum bandwidth of up to 54 Tbps, the APG cable had a length of about 10,400 km and connection points in China, Hong Kong, Taiwan, Japan, South Korea, Malaysia, Singapore, Thailand and Vietnam.
While both the AAE-1 and APG undersea cable routes are disrupted, in recent days Internet service providers in Vietnam have performed load balancing, redirecting connections to other undersea cable routes as well as some land cable routes to ensure the quality of services.
For example, CMC Telecom increased capacity through the cable line across Southeast Asia (A-Grid), connecting the Internet from Vietnam to Cambodia, Thailand, Malaysia and Singapore.
VNPT has actively navigated to other cables that are operating such as CSC, AAG, IA, and SMW3.
Previously, a representative of VNNIC told VietNamNet that performing the tasks assigned by the Ministry of Information and Communications, VNNIC has basically completed a plan to ensure the continuous operation of Vietnam's Internet during situations in which connections are lost with international networks.
Van Anh

Vietnam has gained major achievements after more than 20 years of opening its doors to the internet. 

If Vietnam's telecommunications and mobile services opened 15-30 years later than the rest of the world, the launch of the Internet in Vietnam was only a few years slower than other countries.