Vietnam has gained major achievements after more than 20 years of opening its doors to the internet. 
It is now the time to go further and take the Vietnamese digital footprint into global cyberspace, said Deputy Minister of Information and Communications Nguyen Huy Dung.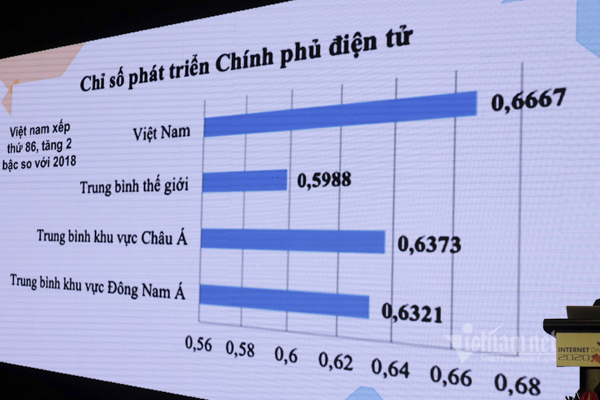 Vietnam ranks the 86th in e-government development index
Dung, speaking at the opening ceremony of the Internet Day 2020, one of the biggest events of the year, on December 16, said the internet has helped Vietnam gain big achievements in socio-economic development.
2020 is the starting year for national digital transformation. Developed digital technology allows people to put all of their activities into cyberspace. The movement will take place rapidly, creating a great impact on the digital government, digital economy and digital society.
In order to realize the aspiration, Vietnam needs to grab the opportunity and carry out digital transformation more quickly and broadly.
The Ministry of Information and Communications (MIC) will implement a number of major tasks, including increasing internet access for all people.
The aim is for everyone to have one smartphone and for each household to have a high-speed fiber optic internet line.
Another task is to develop national digital infrastructure to satisfy requirements in the context of IoT smart device boom and machine-machine communication. To do this, Vietnam will complete the shifting of internet addresses into IPv6 and turn Vietnam into the Internet Hub of the region.
MIC will also develop an ecosystem of digital platforms, and expand national cyberspace and sphere of operation of Make in Vietnam digital platforms.
In addition, ensuring information security, mastering digital infrastructure and cyberspace, and protecting the nation's digital sovereignty are also important tasks highlighted.
Vietnam is one of 20 countries with the highest proportion of internet users (68.17 million, or 70 percent of the total population).
About 94 percent of Vietnamese users use internet regularly with the average usage time of six hours a day. Vu Hoang Lien, chair of the Vietnam internet Association, said it has become an essential service for everyone.
The UN's EGDI Report showed that Vietnam ranks 86th in e-government development index, a promotion of two grades compared with the previous ranking, with the average point higher than Asia's and the world's average level.
In Southeast Asia, Vietnam ranks sixth in e-government development index, after the Philippines, Brunei, Thailand, Malaysia and Singapore.
Regarding the telecom infrastructure index, Vietnam has jumped 31 positions to 69th in the world. Meanwhile, it got a 3-grade promotion to 117th in human resources. However, it has fallen by 22 grades in the online service index. 
Trong Dat

The Ministry of Information and Communications (MIC) has introduced the Flex Digital platform, a comprehensive solution to develop e-government in all fields on the basis of its components facilitating important activities

Over 1,000 administrative procedures, 3,893 out of 6,191 business conditions and 6,776 out of 9,926 categories of goods subject to specialized inspection have been simplified or removed in four years.