The number of waste containers sitting abandoned at Vietnamese ports had fallen sharply this year, according to a report released on Monday by the General Department of Customs.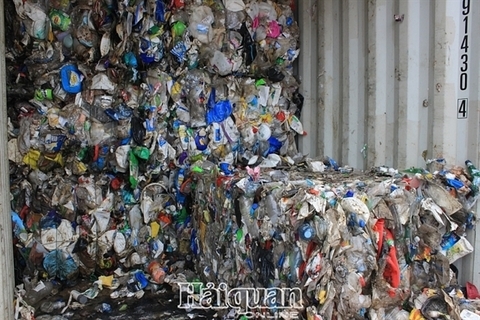 The inside of a waste container at a seaport in northern Hai Phong. Regulations have been tightened to oversee waste imports to Viet Nam. — Photo haiquanonline.vn
The report said as of September 2019, there were 10,100 waste containers stacked at seaports across Viet Nam, down from more than 22,000 at the end of last year.
The department said it had made recommendations to the Government about how to deal with the piled up containers. Those included asking for permission to remove containers considered harmful to the environment, including those containing radioactive waste, to be shipped out of the territory within a 30-day period after giving notice to shipping companies.
Failure to comply would result in the revocation of shipping privileges at all Vietnamese ports until the Ministry of Transport was able to verify all those containers had been shipped out of the country. Stricter inspections and standards for incoming containers will also be carried out by a joint task force from the customs department, transport ministry and finance ministry.
In a recent meeting, deputy chief of the Customs General Department Mai Xuan Thanh said it had been working closely with local customs departments to document, categorise and process waste containers, which according to the task force, were mostly concentrated in seaports along Viet Nam's coast such as Hai Phong, Da Nang, TP HCM, Binh Dinh and Ba Ria-Vung Tau.
During the first six months of the year, more than 500 waste containers were denied entry into Vietnamese ports for failing to meet the country's import regulations. Of which, 289 contained plastic waste, 106 paper waste and 98 metal waste.
Since China banned the import of waste in 2018. ASEAN countries have become new destinations for garbage from developed countries including Australia, Canada and Europe. In a dramatic move, Philippines President Rodrigo Durterte threatened to dump 69 containers exported to the Philippines from 2013-14 in Canadian waters.
Indonesia, another ASEAN state, has been sending back hundreds of containers with used plastic and hazardous materials to Australia, Hong Kong and the UK. — VNS
"There are absolutely no hills or mountains in Denmark", says Danish architect Bjarke Ingels.  

Recycling or incinerating the 10,000 tons of waste produced per day in Ho Chi Minh City is no easy task. The outdated and mostly unregulated waste collecting system only adds more obstacles to the situation.  

The domestic waste treatment market, worth VND7.3-9.8 trillion, continues to attract new investments and technologies.