Vietnam will plant 20,000ha of forests as part of a project to protect and develop coastal forests in response to climate change and to push green growth over the next 10 years.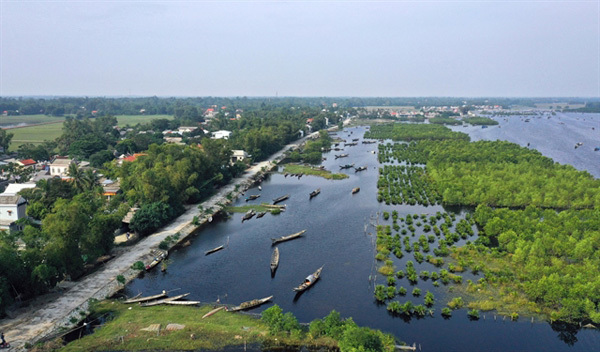 An aerial view of a mangrove in Quang Dien District of the central province of Thua Thien Hue. — VNA/VNS Ho Cau
The project has been approved by Deputy Prime Minister Le Van Thanh, to achieve sustainable management, protection and use of existing and newly planted forests between now and 2030.
It also aims to effectively promote the role and functions of forests in coastal defence, environment protection and coastal infrastructure systems as well as prevent desertification and land degradation while conserving biodiversity, reducing greenhouse gas emissions as well as creating jobs for people in coastal areas.
The project will also contribute to socio-economic development, protecting the environment, strengthening national defence and security, while reducing natural disasters and effectively responding to climate change and the rise of sea levels.
Recovering and developing coastal forests are among the main tasks in the 10-year period. Among the 20,000ha to be planted, 11,000ha will be grown in the first five years.
Vietnam will also enhance the capacity and development of livelihoods for communities and local people who help protect the forests.
To achieve these targets, the country will strengthen communication work to raise awareness of the roles and values of coastal forests, develop seedlings for afforestation, protect and develop mangroves especially in Mekong Delta region, and grow forests to combat sand storms, among many others.
Between 2015-2017, Vietnam planted a total 12,385ha of coastal forests in response to climate change and the coastal forest protection project for 2015-2020. However, the figure has fulfilled only 22 per cent of the target set, which aimed to grow 46,058ha of forests by 2020.
According to a report of World Bank, Vietnam is highly vulnerable to sea level rises and storms along the coast, highlighting, the critical importance of mangrove and coastal forests.
Source: Vietnam News

The first session of the National Assembly's discussion on the socio-economic situation that was broadcast live yesterday attracted the attention of voters and people nationwide.

Natural disasters and floods have devastated central Vietnam at a record level. So far, 130 people have been reported dead, and 18 others are missing.

The Ministry of Agriculture and Rural Development has submitted to the Prime Minister a project to plant 1 billion trees in the 2021-2025 period.