Live streaming e-commerce has become a hot keyword in Vietnam. Experts have begun talking about the formation of a 'livestreaming industry'.
Sellers through livestreaming are pocketing big money. The livestreaming economy can turn a normal person into a star with huge incomes.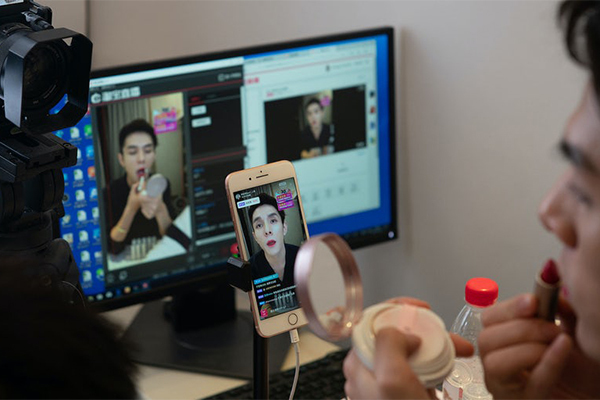 2.5 livestreaming sessions a month
Live commerce, a combination of livestreaming and e-commerce, has been developing strongly in China and many other countries. Vietnam is behind China by three to five years, but its livestreaming industry has also been growing very rapidly.
Reports show that there are about 2.5 million livestreaming sessions to sell goods each month, with the participation of 50,000 product suppliers, which means 70,000-80,000 livestreaming sessions take place a day.
Most of the livestreaming sessions are organized on Facebook, while the remaining are on e-commerce platforms such as Shopee Live, Tike Live, Lazada and Sendo.
Pham Ngoc Duy Liem, co-founder of GoStream, a professional livestream platform provider in Vietnam, said the number of livestreamers has soared since the beginning of the year because of Covid-19.
If counting livestreaming sellers on GoStream only, the number during the pandemic is twice as much as previously and the figure is expected to continue to rise because of the complicated performance of the pandemic.
Asked about livestreamers' incomes, Liem said in Guangzhou, China, a livestreamer at medium level could earn VND700 million a month.
If noting that the basic living standard and prices in the city are twice as much as Vietnam's, the income would be equal to about VND350 million in Vietnam.
Livestreaming becomes more professional
Nguyen Hoa Binh, CEO of Nexttech Group, said that Vietnamese livestreamers are doing this without methodical preparation. The livestream technology in Vietnam is still weak, and livestreaming activities depend on Facebook.
"Most streamers wear indoor clothes while livestreaming. They are arbitrary and they try to lure customers with vulgar behavior and tricks," he said.
"The communication skills of Vietnamese streamers have not been praised and many of them don't have interaction skills," he commented.
What makes it difficult for livestreaming to become an industry in Vietnam is that mostly low-quality cheap products are sold. As a result, do not seek high-quality products from livestreaming sessions.
Many people, called 'cyber gangsters', use livestream as a channel for interactions, which may spoil the livestreaming model. In other words, it may 'die young' like multi-level marketing.
In order to develop a community of livestreamers, there should be streamers who are professionally trained.
Bình said he was optimistic about the development of the livestreaming economy in Vietnam. 
Trong Dat
To be continued...

The combination of livestreams and e-commerce could create an industry worth tens of billions of US dollars. This promises to be a very important element in the development of the digital economy.

Television channels now livestreams big events as well as daily news.

Vietnamese sellers have found many methods to advertise and sell goods via Facebook, and they are trying to lure buyers by showing naked chest images, with low cut tops, at livestreams.