CMC Telecom under a new agreement will provide technological solutions to help VietNamNet maximize its ability to provide content on digital platforms.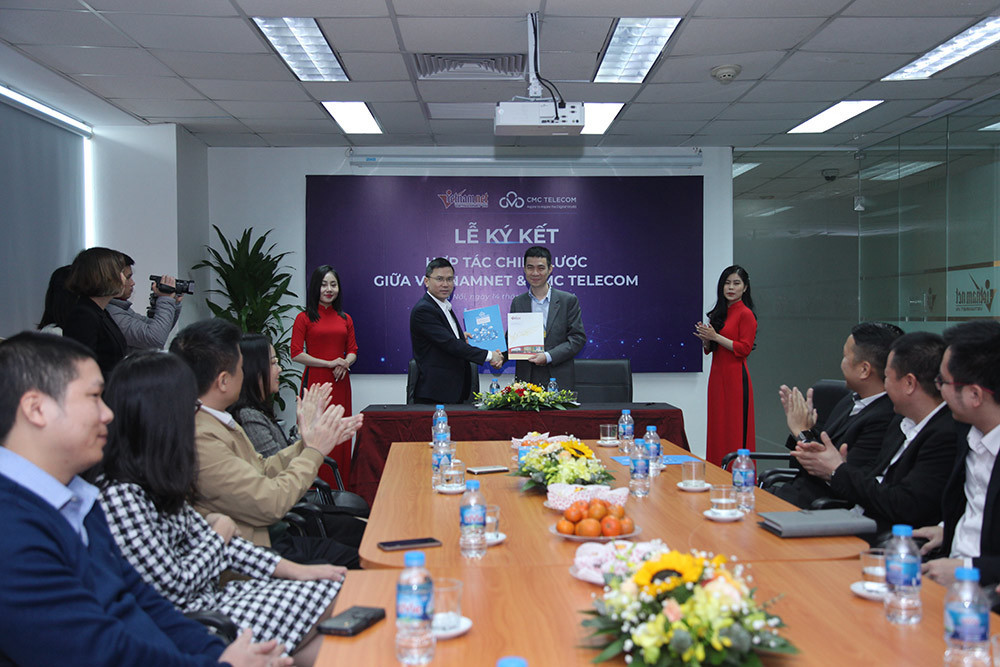 The signing ceremony 
Editor in Chief Pham Anh Tuan said that he hopes technological strength will help the newspaper make a historical development step.
The strategic cooperation signing ceremony between VietNamNet and CMC Telecom took place on January 14 at VietNamNet's head office.
Making its debut in 2003 as one of the first online newspapers in Vietnam, VietNamNet has been operating for 23 years in the field of journalism and communications.
Press agencies are facing an epochal challenge – participating in digital transformation. Because going digitized is a must for development, VietNamNet will apply the most modern technological and telecommunication solutions.
With the cooperation agreement, VietNamNet will be accompanied by CMC Telecom, one of the leading telecom service providers in Vietnam, in its digital transformation process.
CMC Telecom has a standardized Make in Vietnam cloud-computing CMC Cloud and is the only CSP (Converged Services Provider) in Vietnam. The firm platforms allow CMC Telecom to satisfy requirements and implement important tasks in VietNamNet's transformation.
The advantages of the two parties will be exploited to bring the strong development of a modern press to readers.
Tuan said newspapers with developed content will all become technological institutions. It takes a press agency two, five or 20 years to become a technological institution. VietNamNet believes that finding a strategic partner is the solution for becoming a technological institution.
"The signing ceremony today is the start of a new period. This will be a historical period for VietNamNet," Tuan said.
Under the cooperation agreement, CMC Telecom will be the partner to give advice, design, build and deploy modern information technology and telecommunication solutions suited to the press model in the 4.0 industry era.
CMC Telecom will provide the most advanced solutions such as a data center, internet TV channel solutions, cloud computing, added value services and other services.
The solutions will not only help VietNamNet promote its ability to provide content on a digital platform, but also improve information quality to readers' requirements.
Ngo Trong Hieu, CEO of CMC Telecom, said at the signing ceremony that technology has helped media develop rapidly, erasing geographical boundaries. Therefore, CMC Telecom must not be an outsider.
Hieu said he believes that cooperation with VietNamNet will bring benefits to both sides.
VietNamNet's Deputy Editor in Chief Hoang Thi Bao Huong and Deputy CEO of CMC Telecom Dang Tung Son signed the contracts on the services. 
Binh Minh

While Covid-19 had a negative impact on socio-economic development globally, Vietnam was able to control the outbreaks and grab an opportunity to step up national digital transformation.

As proved in the harsh Covid-19 pandemic time, digital transformation does help all fields of life, and education is not an exception.