Prof. Dang Kim Chi, former Vice Director of the Institute for Environmental Science and Technology speaks to the Viet Nam Government Portal on which waste disposal techniques are suitable for Vietnam.
Appropriate technology needed to treat solid waste
Vietnam seeks models of solid waste treatment technology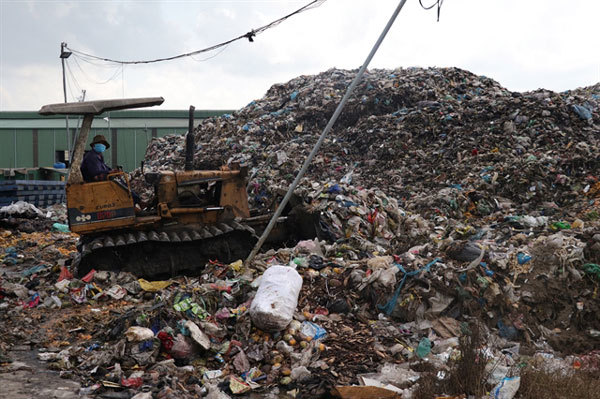 Garbage awaiting process at the Ben Tre waste treatment plant in the southern province of Ben Tre. — VNA/VNS Photo
How many waste disposal techniques have been applied in Vietnam?
At present, there are three main waste disposal techniques which have been used in Vietnam. However, the most common and traditional is the dumping method. Vietnam has more than 450 waste dumping sites with size larger than one hectare. There are, however, countless small landfills scattered all over the country.
The second technique is incineration. Currently, Vietnam has about 285 incinerators, of which 76 per cent are small scale – with capacity of about five tonnes of waste per day and only 21 incinerators have the output of more than 50 tonnes per day.
The third technique is turning trash into electricity or to make compost. This technology is still fairly new to Vietnam, so it is still in the trial period and there's currently only one factory being built that is specialised in this operation.
Regrettably, waste in Vietnam is not separated at the source like in many foreign countries, hampering efforts to solve trash issues using modern technologies. For example, we couldn't ensure the quality of the trash that goes into the production of compost, so the resulting compost was not applicable for fruit trees, and could only be used in forestry, but the transport costs presents another problem.
About a decade ago, there was a plan to build a compost factory at the Nam Son landfill complex, some 20km from Hanoi, but after calculating its cost and effectiveness, the project was shelved.
What technology is the most suitable and easy to be applied in Vietnam?
The Government has always encouraged the use of the latest technology in waste treatment. Yet, before introducing any technology, we have to do the appraisal carefully, as each region and locality requires a different approach. For example, in urban areas or in delta regions, the most appropriate method is incineration. However in remote or mountainous regions, we can use the dumping method - of course we have to select the latest technology to ensure good hygiene and no contamination.
But whatever technology is selected, we have to take into consideration the waste components. Waste with high organic content could be made into fertiliser while urban waste, which frequently contains plastic and other hard-to-decompose materials, should be burned. Some technologies have been applied in Vietnam, for example the treatment of household waste by using incineration, with the heat produced in this process captured to be used in other purposes. This technology usually costs less as it uses less energy and the humidity and other nonflammable materials in the trash were sorted out beforehand.
However, the most challenging thing for Vietnam in using modern technology is our waste sorting activity is still very rudimentary. In other countries, in public places, there are at least three or five different containers available for people to put their waste into, recyclable plastic and nylon stuff will be separated from other trash that could be buried or burnt.
How do you respond to the idea that the Government should allow fair competition in waste treatment technology?
I can't agree more. Each locality should select what technology they think is the most appropriate for them, effectiveness and cost-wise.
Furthermore, competition is a good way to encourage developers to come up with the most up-to-date technology with low cost yet high efficiency. Different investors with different approaches would compete with each other and the performance will be rated by a council.
What should Vietnam do to achieve sustainable and efficient management of solid waste, with a focus on sorting at source?
To achieve such a target, we need to consider waste as a natural resource which needs good management and good way to exploit its benefits to society at the least cost.
In the near future, we need to give priority to recycling technology in accordance with the principles of environment, economy and society. And of course, that technology should not create byproducts which are harmful and dangerous to the environment and the people.
Last but not least, the authorities should come up with specific rules on waste separation at source while launching mass communication campaigns to raise the general public's awareness on keeping the environment clean.
VNS