HCMC has officially allowed F1 cases to quarantine at home since July 17. The new policy is implemented with modern technologies.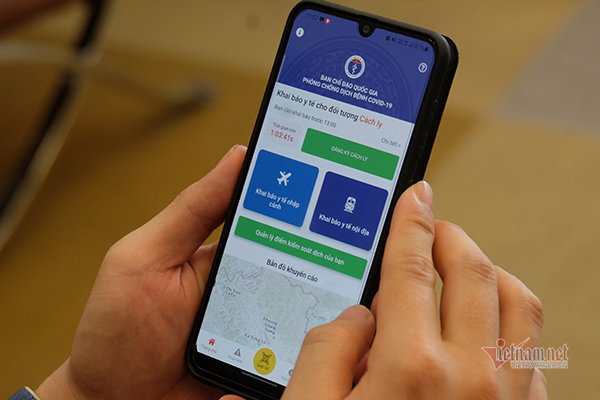 Face recognition
The F1 (close contacts of infected person) home quarantine is being implemented on a trial basis in HCMC with the VietNam Health Declaration (VHD) app. This is also the solution chosen by the Ministry of Health (MOH) for migrant medical quarantine.
Luu The Anh, Deputy Director of Viettel Solutions, the app developer, said that home quarantined people are required to check in with face recognition at certain moments of the day for medical declaration. There are schedules for medical workers or local policemen to supervise home quarantine.
Singapore is applying a similar solution.
The developer is joining forces with the HCMC Healthcare Department to apply the solution in localities before the solution is applied nationwide when MOH officially allows F1 and F0 (infected person) cases to quarantine at home.
Quarantined people must use smartphones and there must be face recognition for medical check-in.
People install VHD on their smartphones to use and are granted one account based on the mobile phone subscriber.
When people check in to make health declaration at home, the app will alert the management agency. The declaration time will be set by medical units.
Those in home quarantine who don't have smartphones will be required to declare their phone numbers. Every day, medical workers or policemen will come to their homes to check and find if quarantined people are at home. They will update the health conditions of the people for supervision.
What if quarantined people leave their home?
The VHD developer said if quarantined don't make declarations, a message will be sent to managerial officers to alert them that the subjects are outside their quarantined areas.
Local authorities and police will go to the sites to clarify the situation and take necessary action in case they confirm that quarantined people have left.
The app developer will provide specific operations to serve the Steering Committee for Covid-19 Prevention and Control. The information to be declared by quarantined people will be managed by the committee.
The tracing of subjects to find out where they are moving will only be implemented when the committee requests it.
Currently, MOH has two solutions to serve the supervision of quarantined people. First, hardware: quarantined people will be delivered bracelets to wear. Second, 'soft' measures.
The VHD developer wants to integrate the quarantine supervision device into the software that manages the declaration to better supervise subjects. If so, if the subjects leave the quarantined areas, an alert will be sent immediately to medical units. 
Trong Dat

A project is being implemented with the participation of Vietnamese scientists who are trying to use AI to discover Covid-19 infections through coughs.

The Ministry of Health (MOH) will pilot a medical quarantine program directed at migrants in Quang Ninh province in July. Smart bracelets will be one of the technological solutions used.