Vietnamese sellers have found many methods to advertise and sell goods via Facebook, and they are trying to lure buyers by showing naked chest images, with low cut tops, at livestreams.
Livestreaming to sell goods is a normal activity which has developed very rapidly in recent years. South Korea has encouraged ministers to live stream, for example, to stimulate demand for online shopping in the context of Covid-19.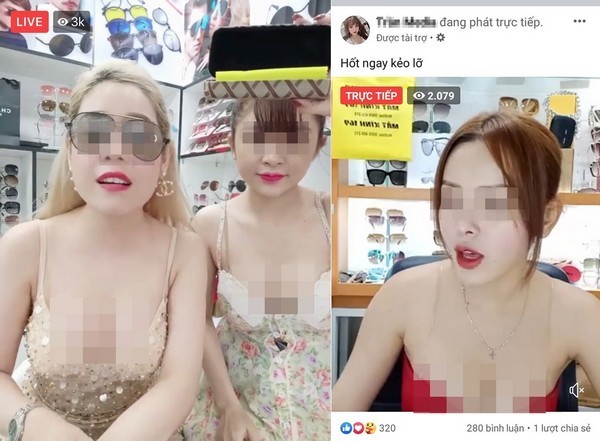 Livestreaming to sell goods is no longer something strange in Vietnam. But livestreaming showing naked images to invite buyers has just prevalent recently.
Facebook is known for strong punishment on violators of its rules. However, more and more repugnant livestreams still appear. Viewers see changes in the names of fanpages, not difference in content.
Many people have raised concern about the increasingly popular appearance of livestreams like this. They said livestreaming has been modified for wrong purposes, such as running ads repeatedly with old videos, giving wrong information about products, and playing tricks to lure comments, increase interactions, and exploit customers' personal information for their own purposes.
The livestreams to sell glasses have appeared often recently. Girls with hot bodies in low necked skirts invite people to buy glasses and perfume. Perfume advertised as Gucci and Chanel products were offered at just tens of dong or VND200,000.
The livestreams were broadcast repeatedly many times on Facebook in Vietnam for a month long before they disappeared.
However, the livestreams like these have returned. Instead of wearing low-necked skirts, the girls appearing at livestreams change clothes while livestreaming.
A question has been raised about why such images still appear when Facebook sets strict rules to control content and people show their strong protest against such bad content.
An analyst said the answer is that Facebook is not determined to put down these livestream campaigns.
Some years ago, Facebookers got angry when there were ads to sell functional food under the disguise of specifics. Only when the Ministry of Health raised its voice and asked to stop this were ads removed by Facebook.
However, once Facebook changes algorithms, advertisers also change their tactics. They have 'skills' to deal with Facebook's changes.
The service of leasing the verified 'blue check' to run ads is still selling well. It is difficult to detect the fanpages, because they are not in Vietnam, thus putting difficulties on the automatic scanning system. They will only be punished unless there are manual reports from users.
The other reason, according to the analyst, is that ads are the major source of income of Facebook. It can collect hundreds of million of dollars from ads, but doesn't pay dong in tax to Vietnam. 
Phuong Nguyen

With its popularity and easy policies, Facebook has proven to be the favorite place for anti-fans to gather to defame celebrities.

Social networks, including Facebook, have become the ideal environment for cybercriminals to seek profits by phishing.