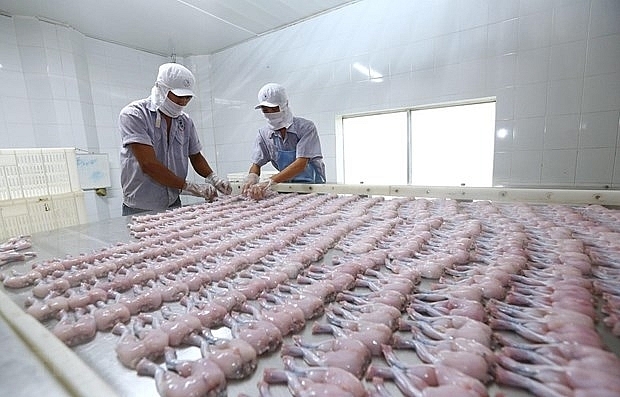 The Vietnam Association of Seafood Producers and Exporters expects them to increase by 10 per cent to $9.4 billion this year aided by many positive factors.
Truong Dinh Hoe, its general secretary, talks about this and efforts made by the industry to enhance its competitiveness and grow.
What do you think about the seafood industry's export prospects this year?
The seafood industry has set a growth target of 10 per cent in exports this year or US$9.4 billion. And there are factors that give us confidence.
Demand for seafood products globally is tending to increase though only at a moderate 1-3 per cent.
We have an advantage of having a reliable raw material source since aquaculture supplies 70 per cent of what is needed to produce commercial seafood products.
Vietnam has controlled the COVID-19 pandemic well, and so seafood processing plants have been operating normally. While other major seafood exporters in other countries are struggling with lockdowns to control the spread of COVID-19 and mobilising workers, leading to a reduction in supply.
With a reduction in supply from other countries, importers will seek alternative sources from Vietnam.
Free trade agreements such as the Regional Comprehensive Economic Partnership, the EU-Vietnam FTA and the UK-Vietnam FTA promise bright prospects for seafood exports to those markets.
The export of shrimp products, one of the sector's key export items, increased by 15 per cent last year to $3.85 billion. Looking ahead, how do you see their export potential?
We set a target of increasing exports of seafood products in general by 10 per cent this year, but in the case of shrimp, we aim for higher growth of 15 per cent based on the export situation last year.
Thanks to better control of the pandemic, Vietnam has advantages over other large shrimp exporting countries such as Thailand and India, with the two countries seeing a drop in shrimp output.
COVID-19 has changed consumption habits globally, with people eating at home more frequently and tending to eat more seafood products, especially shrimp, at home. The trend is expected to continue for the next few years.
To further increase exports, the sector must find ways to reduce production costs to make its products more competitive so that consumers will use them regularly.
In 2021 the sector will focus on three basic programmes.
The first is how to make shrimp farming more stable by diversifying farming methods and enhancing value chain management.
Shrimp breeding must be further improved to ensure environmental protection and traceability to meet a market trend where every market requires certification of origin.
Meanwhile, shrimp processors and producers need to enhance connection to ensure stable supplies.
Secondly, exporters must identify consumption trends in each market and requirements in terms of quality, certificates and social responsibility norms to come up with appropriate plans to boost exports.
Thirdly, businesses must identify that the fight against COVID-19 will continue to be an important task in 2021, because if just one employee is infected, the whole company will be locked down.
With the series of free trade agreements the country has signed, do you think exporters have capitalised on opportunities emerging from them? The UK-Vietnam FTA took effect at the end of last year. Do you think it will have a big impact on the seafood sector?
Businesses have capitalised well on FTAs to boost exports.
Exports to the EU have increased significantly since the EU-Vietnam FTA came into effect last August, thanks to the reduction in tariffs.
They also understand which FTAs carry lowest tariff duties on their products in case that market and Vietnam are in more than one FTA [Vietnam and Japan are in ASEAN-Japan, Japan-VN and RECEP].
The important thing now is that competent authorities need to improve procedures for issuing certification of origin for export items and conduct regular checks of their origins to prevent fraud and ensure fair competition for all.
The UK-Vietnam FTA is an important continuation of trade facilitation between the two countries after the EU-Vietnam Free Trade Agreement expires for the UK.
The UK is among the large seafood importing countries in the EU. Vietnam's seafood exports to the UK used to account for one third of its total seafood exports to the bloc of 28 countries.
So if there is no bilateral free trade agreement with the UK, exports to the market will face difficulties.
The UK has high demand for seafood products, offering businesses the opportunity to boost exports.
How does the association plan to ensure the seafood industry develops in a sustainable manner?
We are focusing on many programmes for creating a solid foundation for the industry's sustainable development in the long run.
Firstly, we are building an export strategy for the Chinese market, a lucrative market for seafood products.
It is time for us to change our mindset about this market. It is not an easy market but a large one and has high requirements in terms of quality. So we need to conduct careful research to come up with a strategy to consistently export to the market.
Secondly, we will continue to promote Vietnamese seafood in the global market. This year perhaps we will stop at focusing on developing programmes to promote Vietnamese seafood but on a large scale and in terms of each specific product and market.
Thirdly, we will work with relevant State agencies to get rid of the European Commission's 'yellow card' warning for illegal, unreported and unregulated (IUU) fishing in Vietnam this year to support the enforcement of the EVFTA better.
The association is urging the Directorate of Fisheries and the Ministry of Agriculture and Rural Development to promote consumption of seafood in the domestic market.
The domestic market of nearly 100 million people is seen as having huge potential to come to the rescue of businesses in case export markets are volatile and help stabilise production, thereby lowering production costs.
In general, the seafood industry still has bright prospects and we are working to ensure it continues to thrive in a sustainable manner.
VNS

The Directorate of Fisheries is implementing software and piloting the electronic traceability for seafood products to meet state management and market requirements.