In the report, the ministry (MoT) announced three lists of investment projects to develop seaport infrastructure, comprising 18 public investment projects in the maritime sector worth over $1 billion; a list of four work clusters for leasing and exploiting port infrastructure; and a list of seven projects and project clusters with non-budget capital of $13 billion.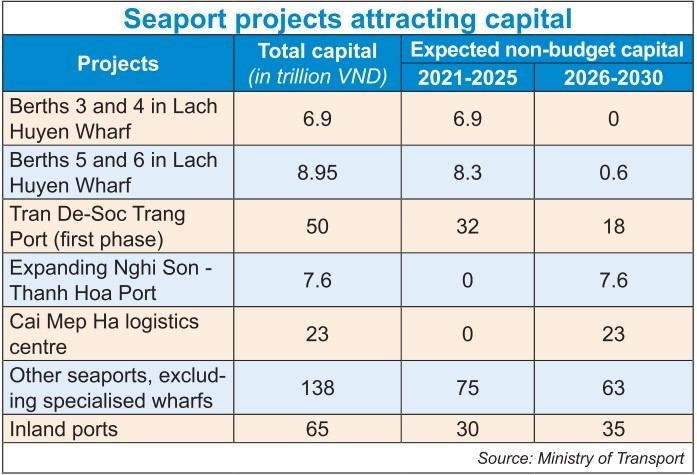 Nguyen Xuan Sang, Deputy Minister, of Transport said that marine channels were usually invested in by the state while port infrastructure was usually invested by private enterprises. However, in recent times, many localities have invested in marine channels using local budgets, facilitating the attraction of private and foreign investment in seaport projects in the future.
The Can Gio international transshipment port super-project in Ho Chi Minh City has identified its investors, despite still waiting for the MoT to finalise the seaport development master plan.
In a document sent to the Ministry of Planning and Investment and the MoT in October, Vietnam National Shipping Lines Corporation reaffirmed its desire to cooperate with Mediterranean Shipping Company S.A. (MSC), the world's largest container shipping company, and Terminal Investment Ltd., (TIL) to develop Can Gio Transshipment Port. This will be the country's largest foreign-invested transport infrastructure project, with a total investment of as much as $4.4 billion.
Nguyen Canh Tinh, general director of the corporation, said that with its capital and long-term experience in port operation management, MSC would help transport international transhipment goods from countries in the region to the international transhipment port in Vietnam. "MSC and TIL appreciate the proposed location of Can Gio Transhipment Port, as well as the potential to develop this port as a major international trade hub in the region," Tinh said.
The existing Can Gio wharf is located at the mouth of the Cai Mep River, a favourable location in terms of channel depth on an international maritime route. The new wharf will accommodate container ships measuring up to 250,000DWT.
The Can Gio international transhipment port project is not only meaningful for highlighting Vietnam's role on the maritime map as an important link in the global supply chain, but also for creating more advantages for export goods.
Regarding the list of seven projects and project clusters with non-budget capital for the 2021-2030 period, the MoT said it would mobilise state budget to renovate and upgrade navigational channels; and propose to exempt or reduce sea-use fees for enterprises to develop seaports.
The ministry will also direct and assign the consulting units to study support policies for each project depending on specific conditions, prioritising key projects. It will also propose mechanisms for mobilising non-budget capital, such as official development assistance, investor capital, and social capital.
"We will soon propose a specific mechanism to submit to the prime minister to create favourable conditions for investors to access capital and put public money into the transport infrastructure system, thereby enhancing the country's development," said Deputy Minister Sang.
According to Nguyen Dinh Viet, acting director of Vietnam Maritime Administration, during 2011-2020, $8.78 billion was poured into developing seaport infrastructure, accounting for about 20.6 per cent of the total investment in transport infrastructure. More than $7.5 billion of this was non-state budget capital.
The world's leading maritime transport and seaport groups have been present in the country, such as the UAE's DP World, which has invested in Saigon Premier Container Terminal in Ho Chi Minh City. Attracting private and foreign capital has allowed Vietnam's seaport system to grow. In the first 10 months of 2022, Vietnam's seaports handled 608 million tonnes of goods, up 3 per cent compared to the same period last year and accounting for 84 per cent of the yearly target.
Thanks to foreign shipping lines, there are now two routes from northern Vietnam to the United States, and 16 routes from southern Vietnam to the US and Europe.
Source: VIR