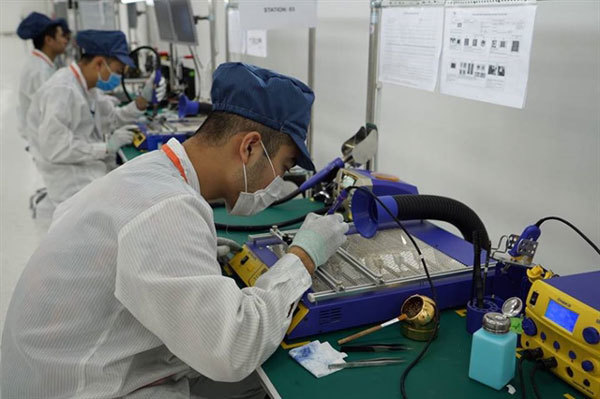 Workers at Vinsmart's factory in Hai Phong City. — VNS Photo Thanh Hai
Nishant Mahajan, frontier market leader and head of executive remuneration at Mercer Singapore, said export manufacturing continued to be main driver of Vietnam's economy but the weakening đồng and limited labour skills were among the challenges faced by companies.
They also face challenges caused by technology disruption, according to Mahajan.
Employees expect their workplace to "become more flexible in terms of hours worked and location and more focused on employee health and well-being."
They also want to better understand how to grow their careers.
According to the Talentnet-Mercer Market Pulse Report released recently, the top reasons for employees quitting an organisation are lack of a clear career path and low pay competitiveness -- 47 per cent of respondents each -- whereas low pay competiveness had been secondary to a career path in past years.
This shows that employee demand is quickly shifting towards a balanced need between steady career progression and equitable compensation.
He said to create a strong employer brand in a competitive environment, businesses need to create staying power through a unique proposition, create differentiated experience and provide competitive compensation and benefit offerings.
Nguyen Thi Thanh Huong, deputy CEO of Talentnet and head of human capital solutions and Mercer salary survey department, said: "In the digital age where businesses are predominantly occupied by millennials, behaviours and expectations of employees are rapidly diversifying.
"As a result, businesses must centralise their structure based on quantitative and qualitative data, most importantly in the task of talent retention, where there are both tangible and intangible deciding factors.
"Other than career progression, employees feel the need to see the fruits of their efforts, and see that effort reciprocated equitably. As such, appropriate remuneration schemes and flexible training and development options are pivotal."
HR leaders from Saint Gobain, Schneider Electric and Nestlé also shared their experience at their companies.
According to Nguyen Ha Trang, HR director at Saint Gobain, said using remuneration data is very important to improve salaries and know how competitive their salaries are compared to the market.
Le Thi Khai Minh, head of the salary and benefit division at Nestlé, said previously compensation and benefit were confidential, but in the Industry 4.0 era employees can easily find out the compensation and benefits that other companies pay for similar positions.
"Therefore, Nestlé communicates clearly and transparently the compensation and benefits that employees would get and their career path and the way the company evaluates employees at each level," she said.
Many delegates at the seminar organised by Talentnet said it was evident that businesses were slowly shifting towards a more methodical and sustainable people's strategy approach.
To make timely and accurate decisions regarding their employees, leaders must grasp the overall market picture through reliable data reference points, identify long-term goals for the business and organise business strategies in order to hire the right people, they added.
Source: VNS